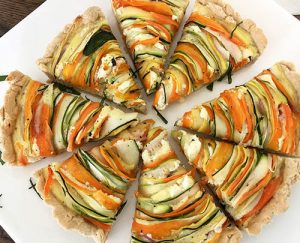 Road trip! Faith and the gang bring you the show from picturesque White Gate Farm in East Lyme, CT. Owner Pauline Lord shares the farm's recipes for Zucchini and Carrot Ribbon Tart, Kale and Orange Cupcakes, Fennel Vichyssoise, and Chocolate-Zucchini Cupcakes. Plus, a fresh vintage of Clos des Lumieres's rosé to pair with anything you might buy at a farm stand, and ideas for easy summer granitas (lavender or rosemary lemonade granita, anyone?).
Aired: August 3, 2017
CONTRIBUTORS AND GUESTS:
• Chris Prosperi — chef/owner, Métro Bis in Simsbury, CT.
• Alex Province — wine expert
• Mark Raymond —wine expert
• Robyn Doyon-Aitken — senior producer
• Pauline Lord — owner, White Gate Farm in East Lyme, CT
• Kent Girty — farm manager
Special thanks to our WNPR teammates: Joe Coss, Kevin Khul, and Karen Tomasko.
MUSIC:
• "This is What We Live For," American Authors
• "Welcome to the Farm," Luke Bryan
• "Beans and Cornbread," Louis Jordan and The Tympany Five
• "Vegetables," New Move
• "Fresh Eyes," Andy Grammer
• "Everybody Eats When They Come to My House," Cab Calloway