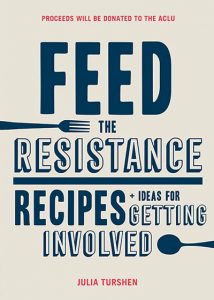 Food is political. It's cultural and it's political. So, what's a woke cook to do in these modern times? Ah, Julia Turshen, the author of Small Victories, has scored another victory with a most unique cookbook, Feed the Resistance. Julia solicited food-loving activists from all over the country to share recipes and essays about how everyday citizens can get involved. . .whatever your cause might be.
• ON-DEMAND: Listen to Faith and Julia discuss the recipes and the motivation behind this book. •
You'll find easy, affordable, packable, comforting recipes in Feed the Resistance. They're designed to bring people—all people—around a table (family, friends, fellow-protesters). It doesn't matter what your actual politics are; dive in with the desire to connect through food. The recipes here serve a crowd or easily scale up, and they all have a story bound to inspire and motivate. (When was the last time a cookbook made you want to volunteer your time to a cause or a community in need?)
The resisters here come armed with spoons. And purpose. And an overwhelming desire to make the world a more nourished and nourishing place. All the proceeds from the book will be donated to the ACLU. Start there. Then find your community and feed it. We've all got work to do. And we've got to eat.
Get involved with recipes from the book:
Spicy Tandoori Cauliflower with Minted Yogurt
Red Lentil Soup with Coconut + Cilantro
Angel Food Bread Pudding with Butterscotch Sauce