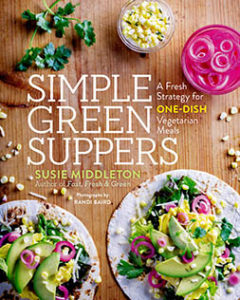 If you're a fan of Fine Cooking magazine, you know when you see Susie Middleton's byline, something delicious follows. Every single time. In her new book (her fourth, now) Simple Green Suppers, Susie shares the strategies she's developed for turning vegetables into suppers that satisfy. How does she do it? It's simple: Veggies + 1.
Susie pairs vegetables (grown on her Martha's Vineyard farmette, by the way) with staple ingredients. Plus 1s are everything you've got in your pantry or fridge on the daily: noodles, grains, beans, greens, toast, tortillas, eggs, and broth. I smell dinner right there.
• ON-DEMAND: Listen to Faith and Susie talk about the recipes in Simple Green Suppers on The Faith Middleton Food Schmooze®. •
And of course, because it's Susie we're talking about, the book is inherently beautiful. You just know this is a woman who is connected to the food she grows and eats. (Hit your farmers' market, and the recipes you make from the book will likely be Instagram-able, too. Happy spring!)
You'd be smart to start with Susie's Avocado Toast. Consider it an ultimate version of avocado toast. It's unlike any you've ever had—and yes, it's a meal.
Get a taste of recipes from Simple Green Suppers
Avocado Toast with Baby Kale, Blue Cheese, Pecans, Quick-Pickled Radishes, and Honey
Baby Potato, Greens, Garlic, and Chickpea Hash
Spring Farmers' Market Stir-Fry of Baby Japanese Turnips, Radishes, and Soba