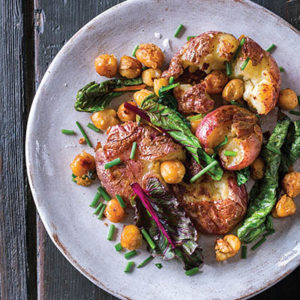 A simple, comforting supper with just a few ingredients, this dish was inspired by a freshly dug batch of Red Gold potatoes from the garden. Nutty-tasting yellow-fleshed Red Golds are delicious, but of course not required, in this recipe—any baby potato will do! The potatoes get boiled first, then crushed and sautéed with the other ingredients for a delicious crispy finish. I also love that this recipe showcases another tasty way to use chickpeas as a protein: in a rustic "hash." Sautéing the chickpeas until golden, as I mentioned in the introduction, is the trick to giving them extra flavor. It even works with drained canned chickpeas. Choose your favorite tender greens for this, and be generous with the garlic, too.
— Susie Middleton
ON-DEMAND: Listen to Faith and Susie talk about this recipe and more on The Faith Middleton Food Schmooze®.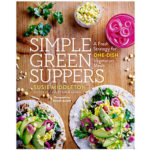 From Simple Green Suppers by Susie Middleton © 2017 by Susie Middleton. Photographs © 2017 by Randi Baird. Reprinted in arrangement with Roost Books, an imprint of Shambhala Publications, Inc.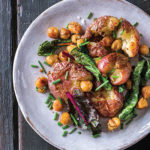 Put the potatoes and 2 teaspoons of the salt in a large saucepan and cover with a generous amount of water. Bring to a boil, reduce the heat to low, and simmer until just tender, about 25 minutes. Drain.

Melt 2 tablespoons of the butter in a large (12-inch) nonstick skillet over medium heat. Add the chickpeas and cook, shaking or stirring, until golden brown, about 5 to 7 minutes. Add the garlic and cook, stirring, until fragrant, about 30 seconds. Add the greens and 1/4 teaspoon of the salt and cook, tossing or stirring, until wilted, 1 to 2 minutes.

Move the greens and chickpeas to one side of the pan and add the remaining 1 tablespoon of butter. Let it melt and then add the whole boiled potatoes. Using a potato masher or spatula, crush the potatoes into large pieces (you don't want to mash them completely, just break them up), then sprinkle them with the remaining 1/2 teaspoon of salt and several grinds of black pepper. Increase the heat to medium-high and stir everything together. Press down on the mixture with a spatula and cook until the bottom is somewhat browned, 3 to 5 minutes. Flip the hash over in pieces and cook again until the other side is somewhat brown, 2 to 3 minutes.

Remove the hash from the pan and taste for seasoning. Add more salt and pepper and a splash or two of hot sauce or vinegar. (You can also serve the hash with a bottle of hot sauce alongside it instead.) Garnish with the sour cream and chives and serve right away.