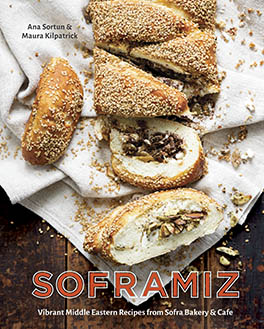 Senior contributor and chef/co-owner of Metro Bis in Simsbury, Connecticut, Chris Prosperi wasn't kidding when he told Food Schmooze® guest Ana Sortun that he had her Cambridge restaurant on speed dial. "She's my favorite chef in the northeast," Chris said. "By far."
What a thrill it was to have Ana on The Food Schmooze® with us. After much raving (it's hard not to, given her credentials) Faith talked with Ana about her latest book, Soframiz, written with her business partner the executive pastry chef behind all the sweets at Oleana and Sofra Bakery & Café, from which the recipes in the book derive.
Listen to Faith's conversation with Ana.
If you love Middle Eastern flavors like we do (if you listen to the show, you know Faith is obsessed with sumac!) Soframiz is a book you'll get lost in. Flip through, and you will want to cook from it, yes, but you'll also want to get in your car and drive the couple of hours to Boston to sample the salads, hummus, rolls, and breads (so many beautiful breads!), the million ways tahini makes its way into dishes sweet and savory, and the pastries and cakes that'll put Maura Kilpatrick on your list of favorite chefs as well. We love Maura's Sesame Cashew Bars for a homemade Christmas gift. Think of them as a twist on your traditional shortbread.
More recipes from Soframiz:
Walnut Hummus with Pomegranate and Cilantro
Green Apple Fattoush
Tahini Hot Chocolate
—Robyn Doyon-Aitken
Senior Producer