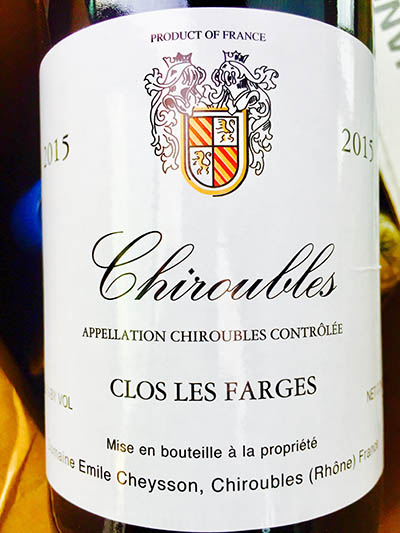 ON-DEMAND: Listen to Faith and the gang rave about this wine during our Food Schmooze® holiday road trip.
VIDEO: Watch Faith, Alex Province, and Mark Raymond taste and describe this wine paired with our holiday showstopper beef tenderloin.
Direct from Alex's notes on one of our new favorites for the holidays:
Country: France
Region: Beaujolais-Burgundy
Appellation: Crus Beaujolais-Chiroubles
Price: $24
Grape: Gamay
Vintage: 2015
Vinification: Partial carbonic maceration.
Color: Candy red
Bouquet: Red berries and flowers
In the Mouth: Explosively vibrant flavors reminiscent of strawberry and raspberry jams. Velvety smooth texture. Just enough acidity to balance the fruit and make it mouth-watering.
Tasting Notes:
The first thing you'll notice when pouring a glass will be its brilliant red color. It's a vibrant candy red. Upon swirling and smelling, you'll get fresh red berries…strawberries, raspberries, cherries jumping out of the glass. Taking a sip, you'll notice how absolutely velvety it feels as it rolls across your tongue. It will feel like velvet. Then you'll notice the perfect balance of fruit and acid…like when you eat a perfect bing cherry…fruity, juicy, and lip-smacking.
Food pairings: (very similar to Pinot Noir) Turkey and other roasted poultry. Ham. Grilled fish steaks like tuna and swordfish. Charcuterie. Duck. Chinese dumplings in soy sauce…anything with soy really.
Honestly, this is one of my favorite wines. 2015 is a spectacular vintage, too. Its elegant enough on its own when we just want a glass of wine by the fireplace, and then with food, it acts as a condiment…almost like a cherry gastric.
— Alex Province