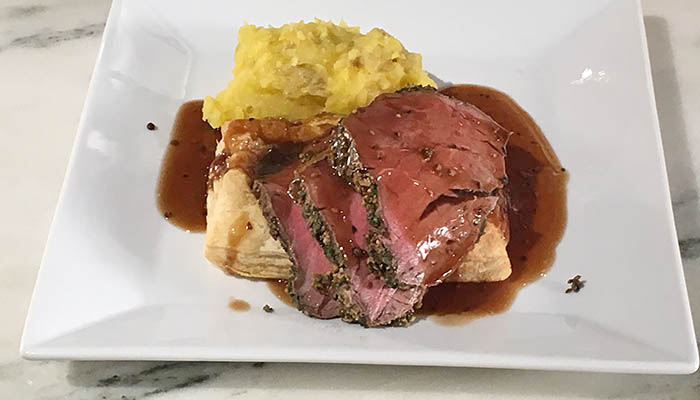 Ready for a knock-out Christmas dinner? Faith and Chris Prosperi put their heads together to create a holiday centerpiece dish that looks elaborate, but is actually made up of four easy make-ahead components.  In this dish, a fragrant Provençal-inspired rub crusts a gorgeous beef tenderloin. There's the first two components, the rub and the beef. The second two: Pillows of puff pastry and a decadent red wine sauce you'll want to sip by the spoonful. The puff pastry is a simple, store-bought puff pastry you can make while the roasted tenderloin is resting—or up to a day ahead. Paired with Winter Squash, Potato, and Olive Oil Mash, the meal is a triumph.
ON-DEMAND: Listen to Faith and the gang rave about this beef tenderloin during our Food Schmooze® holiday road trip.
VIDEO: Watch Faith, Chris and Alex Province make the beef tenderloin at Clarke Kitchen & Design Showroom in South Norwalk, CT.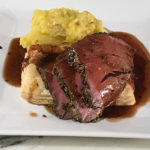 Mix all ingredients and set aside.
Heat oven to 400 ˚. Thaw and roll out the pastry on to a large cutting board. Cut into 8 equal squares and place on parchment paper on a baking sheet. Then prick with a fork and bake for 10-20 minutes or until lightly browned and crispy. Remove from oven and set aside.
Heat oven to 450˚. Place the trimmed tenderloin on a rimmed baking sheet large enough to fit. Rub the tenderloin with the olive oil to coat. Then carefully coat and press the rub mix into the meat, turning to get all sides. Place into the 450 ˚ oven and roast for 5-7 minutes. Turn the oven down to 350 ˚ and roast for 20 -25 minutes or until an instant read thermometer reads 125 ˚ for rare, 130 -135 ˚ for medium rare, 140-145 ˚ for medium and 150-155 ˚ for well done. Remove from oven and let rest for a minimum of 15 - 20 minutes.
Place the red wine in a sauce pan over medium heat and simmer until reduced by half. Add in the 4 cups of broth and return to a simmer. Mix the corn starch with the cold water and while stirring the gravy pour in the corn starch mixture to thicken. Remove from the heat and whisk in the Worcestershire sauce, balsamic vinegar, honey and black pepper. Taste and adjust seasonings with salt if needed. Stir in butter and drippings from the sheet pan.
Once the tenderloin has rested and the sauce is ready, assemble the dish. Slice the tenderloin and place slices on top of a square of puff pastry. Pour the red wine sauce over everything.