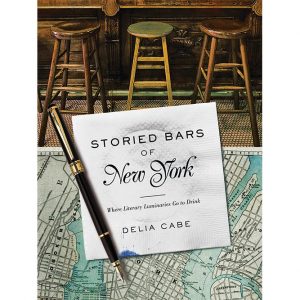 Boston writer Delia Cabe's new book, Storied Bars of New York: Where Literary Luminaries Go to Drink, is every cocktail-loving literary nerd's dream. Want to sit on the same stool Norman Mailer sat on? How about Hemingway or the Fitzgeralds (yes, Zelda, too)? Want to drink in Dorothy Parker? You'll have two shots at it, since Ms. Parker has two cocktails named for her in the book.
• ON-DEMAND: Listen to Faith and the gang talk to Delia Cabe about the bars and cocktail recipes featured in Storied Bars of New York. •
Broken up geographically, Storied Bars is the ultimate guide to drinking in the city, even if you weren't an English major in college. Going to be in Tribeca? Delia tells you not only where to go—Chumley's—but also what to order when you get there—The Chaplin. The bartenders at Bemelmans (in the Hotel Carlyle) make an icy cold gimlet. Get the backstories and signature literary cocktails of dozens of bars in Greenwich Village, the East Village, Chelsea, the Flatiron District, Midtown Manhattan, the Upper East Side, the Upper West Side, and Long Island.
When you get the book, put it to good use. Either start off on your own literary cocktail crawl (if you don't live in New York, plan out a few day trips this spring) or make the signature drinks at home. But do it right—make a cocktail with a friend or loved one with whom you can have a good, long conversation. The book is rich in history, too, so you'll never run out of things to talk about.
Flip Through These Recipes:
Chaplin (from Chumley's)
The Old Cuban (from Bemelmans Bar)
The Dorothy Parker (from the Algonquin)