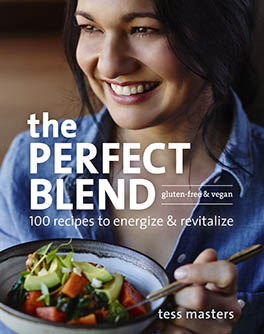 The dog days of summer are the perfect time to pull your blender out and put it to work, assuming it doesn't already have a permanent place on your counter. Need inspiration? Tess Masters (a.k.a. The Blender Girl) has a new book out. The Perfect Blend goes waaaaay beyond smoothies and includes a surprising array of recipes for every course organized around health goals and nutritional benefits. There's even a recipe for lasagna, here (and yes, her blender tomato sauce can be tweaked into a soup or gazpacho).
• ON-DEMAND: Listen to Faith and Tess talk about the recipes in this book. •
You could easily find at least one thing here to buzz into your belly every day. Our picks: a refreshing  gazpacho that includes two big pineapples and English cucumbers, minty pea shooters for a party, and speaking of party: Avocado Daiquiris.