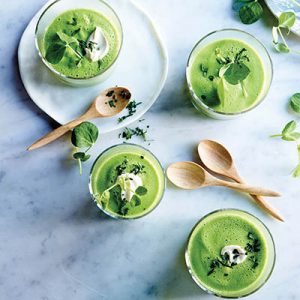 The classic combo of mint and peas rocks the pot! For the ultimate spoonful, boost with the sour cream, parsley, and lemon juice. "Souperb" hot or cold, this blend serves up nicely as a starter, a main, or in shot glasses as an appetizer. Full of flavor, fiber, and alkalizing power, these pleasing peas and their pals are dressed to impress!
— Tess Masters
Nutritional facts (per serving, based on 6 servings)
Calories 181 kcal | Fat 5.3 g | Saturated fat 0.8 g | Sodium 435.7 mg | Carbs 26.7 g | Fiber 8.8 g | Sugars 10.7 g | Protein 8.6 g | Calcium 70.1 mg | Iron 2.5 mg
• ON-DEMAND: Listen to Faith and Tess talk about this recipe (which we're totally making as shooters), as well as two other must-make summer recipes from Tess's new cookbook. •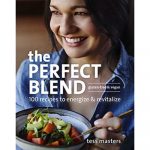 Reprinted with permission from The Perfect Blend, ©2016 Tess Masters. Published by Ten Speed Press, an imprint of Penguin Random House LLC. Photography ©2016 by Anson Smart.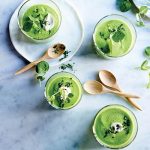 Servings
6
as a starter, 4 as a main
Servings

6

as a starter, 4 as a main
Servings:
as a starter, 4 as a main
In a large pot, heat the olive oil over medium heat and sauté the onion with a pinch of salt for about 5 minutes, until soft and translucent. Add the cauliflower and broth, raise the heat to high, and bring to a boil. Lower the heat to medium and simmer for about 10 minutes, until the cauliflower is just tender. Add the lettuce, peas, and 1 teaspoon of salt and simmer for about 2 minutes, until the peas are just cooked but still vibrant green. Remove the pot from the heat and allow to cool slightly. Add the mint.

Working in batches, pour the soup into your blender and puree on high for 1 to 2 minutes, until smooth and creamy. (For conventional blenders, remove the small center lid cap and cover the opening with a kitchen towel so steam can escape while you blend.)

Return the soup to the saucepan, season to taste with salt and pepper, and warm it over low heat. Add the lemon juice booster.

Ladle the soup into bowls, garnish with the sour cream and parsley boosters, and serve.