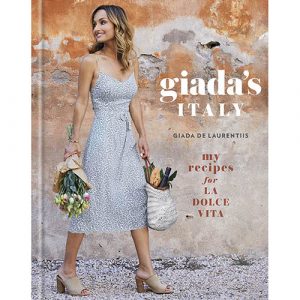 Her nineth book, Giada's Italy, by (of course) Giada De Laurentiis is a feast for the eyes and a cookbook Italian-food lovers are bound to cook from night after night—or over a long weekend, as Giada tells us Italian families often do.
• ON-DEMAND: Listen to Faith's conversation with Giada.  •
See Rome through Giada's eyes—and through her recipes, which incorporate traditional Italian flavors with Giada's signature updates. If you've ever wished your favorite Italian dishes were lightened up, freshened up, and modernized just the right amount, we predict dog-eared pages and olive oil splatters on your book. Better get two, as many people did, recently, during "An Evening with Giada De Laurentiis," a very special book event hosted by R.J. Julia Booksellers in Madison, CT.
Faith interviewed Giada in a packed church filled with enthusiastic Giada fans who traveled from all over our region to see the conversation in person.
Couldn't be there? No worries. You can still experience Italy vicariously through Giada's recipes.
Get a taste of Giada's Italy:
Cacio e Pepe
Grilled Scallops with Prosciutto
Grilled Chicken Involtini