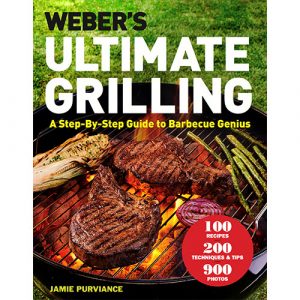 Lucky for us, Jamie Purviance, author of the new edition of Weber's Ultimate Grilling, has packed his latest guide with 100+ recipes and hundreds of techniques and pro tips (because I forget every year!). There are almost 1,000 photos, which I like, so I know how the grilled food is supposed to look at every stage. Meaning, and this is my best tip…grilling is not burning stuff, right? Trust me, I've burned my share of stuff.
Here on the show, we zeroed in on some bare-basics recipes, not only because they're classics, but because they're the ones that'll get you cooking on a weeknight. Jamie's book includes "Flavor Bomb" options for those classic recipes so you can take any basic bruschetta, chicken, salmon, steak, or grilled veggie, like asparagus, in a crazy-delicious direction. Go ahead, call it, "ultimate."
Another thing we like about Jamie: He doesn't skip dessert. In his previous book, he taught us how to cook a Pineapple Upside-Down Cake on the grill, and from this latest book, we couldn't resist his Grilled Banana Splits with Salted Caramel Sauce. The trick is grilling the banana halves in their peels. How fun does that dessert sound? It's gorgeous, too.
Grill This Tonight!
Monday Night Flank Steak
Tuesday Night Marinated Chicken Thighs
Garlic Shrimp with Lemon-Dill Sauce
Banana Splits with Salted Caramel Sauce