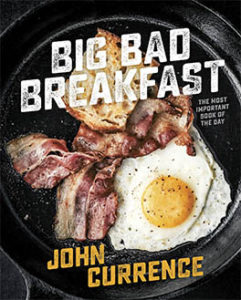 Get ready for some seriously irreverent food writing, here in John Currence's Big Bad Breakfast. The tell-it-like-it-is personality of Currence, a New Orleans-born chef and restaurateur, is on every page. But, when I talk about irreverence don't get me wrong. I'm talking about his writing style. His words are irreverent. He has complete reverence for breakfast, however. So much so that he drafted "The Ten Commandments of Breakfast." Highlights totally up our alley:
4. Thou Shalt Slather with Butter
6. Thou Shalt Make From Scratch
7. Thou Shalt Use Restraint with Ingredients
Based on the recipes in his Oxford, Mississippi restaurant of the same name, Big Bad Breakfast is celebration of food and restaurant life. Sure, Currence drops the occasional F-bomb, but that's what cooks in busy kitchens do.
During our Food Schmooze® devoted to breakfast, Chris Prosperi said "breakfast isn't just the most important meal of the day, it's also the most fun meal of the day." Big Bad Breakfast makes it a little more fun. Delicious too.
In Big Bad Breakfast, you'll find recipes for all the breakfast staples: several types of doughnuts, tons of classic egg dishes (many with NOLA twists), frittatas, skillet scrambles (with shrimp and other proteins), Monkey Bread, pancakes, Homemade Pop-Tarts, Homemade Crispy Rice Elvis Treats, Homemade Frosted Cornflakes, a dozen or so "Breakfast for Dinner" recipes in the middle of the book, grits, jams, Pimento Cheese, cereals, breakfast sandwiches, and more than a dozen breakfast drinks and cocktails (Michelada and a Shot, Eggnog, Big Bad Bloody Mary, Falling Down Brown Cow). Seriously fun stuff.
His hangover cure, The Pylon, is a Belgian waffle with everything you can imagine on top, including chili and hot dogs, which reminded me of Alex's Biscuit Pizza. Currence's Monkey Bread is made with canned biscuit dough, too! It's ridiculous and wonderful at the same time.
Currence gives his book's photographer Ed Anderson full credit for making his recipes (like Roasted Tomato Cobbler ; Sautéed Trout, Soft Scrambled Eggs, Chanterelle Mushrooms ; Creamed "Chipped" Mushrooms on Toast – ; Pork Posole; as well as his jams (Pontchatoula Strawberry Jam), and spreads ( Black Pepper Honey) look drop dead gorgeous—don't forget to appreciate that. However colorful Currence's language, however rowdy a big bad breakfast might be, breakfast can be a stunningly beautiful meal in Currence's hands. See his Brioche French Toast for one more example. It includes bourbon. And it looks like a dream. You'll want to wake up and make it.
Get a taste of some of the recipes in Big Bad Breakfast:
Sausage Cinnamon Rolls
Shakshouka (One of Faith's favorite dishes)
German Apple Pancake (just like a Dutch baby, and perfect for right now)
— Robyn Doyon-Aitken
Senior Producer