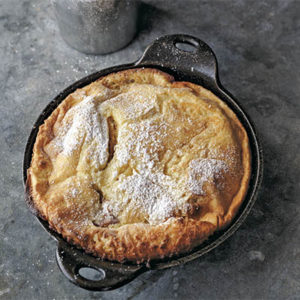 Credit for this dish goes entirely to our corporate fixer, Rusty Boyd. You see, restaurants that survive very long all end up in cycles. Staffs change, leadership changes, and every so often, you find yourself in a rut. Morale turns poor, leadership is ineffective, quality suffers, things just need a shot in the arm. Rusty was a man who presented himself at a time when Big Bad Breakfast was struggling to find its way. He came in full of piss and vinegar and was hell-bent on fixing what was broken. He took the reins and in a couple of months had put us on the right path. We kept him there for a couple of years, and he made the restaurant a better place to work than it had ever been. His food was exceptional, and his spirit and enthusiasm were unparalleled.
One of the best recipes he developed was this German apple pancake. Unlike a griddled pancake, this is baked. It's as delicious as any breakfast dish I have ever tasted, and there is little better to eat on one of those cool fall mornings, particularly when apples are  in season, fresh and crisp. Do not be surprised that when this comes out of the oven, it will be nicely puffed and then collapse almost immediately, so that it looks more like an ugly crepe than a pancake. That's what it's supposed to do.
Rusty has gone on to fix a couple of our other restaurants, and though he is no longer in the heat of the kitchen at Big Bad Breakfast, he is never far and he's certainly never a stranger. His spirit and leadership linger on.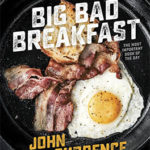 Reprinted with permission from Big Bad Breakfast by John Currence, copyright © 2016. Photography by Ed Anderson. Published by Ten Speed Press, an imprint of Random House LLC.
Learn more about John Currence's Big Bad Breakfast and listen to The Food Schmooze® to hear him describe this recipe as well as several others from the book.

Preheat the oven to 425ºF.

In a bowl, stir together the flour, granulated sugar, and salt. In a separate bowl, whisk together the milk, buttermilk, eggs, and vanilla. Pour the milk mixture into the flour mixture and whisk together until smooth. Whisk in the melted butter, then stir in half of the apple.

Warm an 8-inch cast-iron skillet (or nonstick skillet) over medium heat for 1 minute. Add the clarified butter, then place the remaining apple slices around the bottom of the skillet and sprinkle with the brown sugar. Pour the batter evenly over the top and slide the skillet into the oven. Bake until the top of the pancake is golden brown, puffy, and firm to the touch, 12 to 14 minutes. Remove from the oven, sprinkle with confectioners' sugar and lemon juice, and serve immediately, preferably directly from the pan.