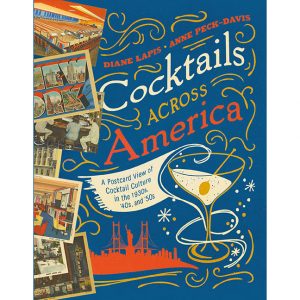 Cocktails Across America: A Postcard View of Cocktail Culture in the 1930s, '40s, and '50s
by Diane Lapis and Anne Peck-Davis has earned a permanent place in Faith's personal book collection. Faith called it one of the best—if not the best—cocktail book she's ever read. That's because it's more than just a book of recipes. Cocktails Across America takes an American-studies approach to explaining cocktail culture in the 30s, 40s, and 50s and all of it's expansiveness.
• ON-DEMAND: Listen to Faith's conversation with Anne Peck-Davis. •
The linen postcard representations throughout—they served as advertisements in their time, really—are beautiful (you can even tear a few out of the back and send them to friends). And every page reveals a fascinating story about hotels, restaurants, attractions, and vacation destinations throughout America you thought you knew. Twists and turns abound in these origin stories—literally—as when the authors talk about the various mechanically-revolving restaurants and bars popular during the post-prohibition era and the impact those advanced technologies had on the theater industry.
The book is also pure fun. If you're a history buff, design nerd, or classic cocktail connoisseur, you'll want Cocktails Across America in your book collection too.
Pour a bit of History (and view the postcards)
Du Pont Hotel Cocktail
Sazerac
Conga Cooler