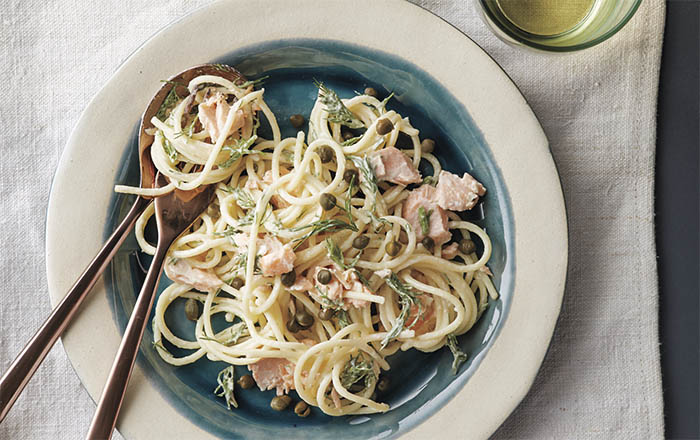 My friend  Seiko whipped this up for dinner when she stayed at my place on vacation. It's pretty simple: leftover salmon, crème fraîche (which makes an instant cream sauce), and pasta. Dill and capers add a bit of pop. If it's summer, my recipe, "To Be Eaten Only in Season Tomato Salad"  is lovely on the side.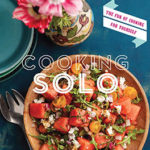 Text excerpted from COOKING SOLO © 2016 by Klancy Miller. Reproduced by permission of Houghton Mifflin Harcourt. All rights reserved. Photo: © 2016 Tara Donne.
Learn more about Klancy's book and listen to the show to hear her describe this and other recipes.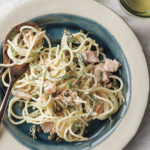 In a large pot, bring the water and a healthy pinch of salt to a boil over high heat. Add the pasta and cook, stirring occasionally, until al dente, 6 to 8 minutes.

While the pasta cooks, put the salmon in a small bowl and douse it with the lemon juice.

Drain the pasta and transfer it to a medium bowl. Add the salmon, dill, crème fraîche, olive oil, capers, a pinch of salt, and a grind of pepper. Toss with tongs to combine well. Taste and adjust the seasoning, if desired. Serve warm.