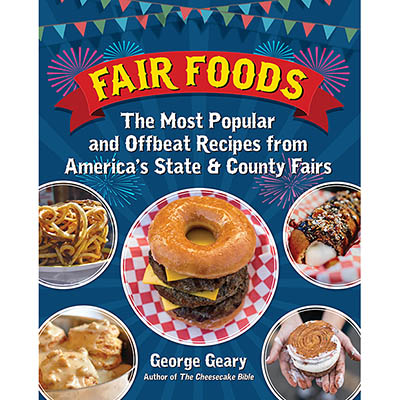 Who doesn't love a fair? And fair foods? We ALL do, right? Now you can make them at home with George Geary's Fair Foods: The Most Popular and Offbeat Recipes from America's State and Country Fairs.
• ON-DEMAND: Listen to Faith and the gang talk to George about recipes from his book. •
Chocolate-covered bacon? Fried Oreos? Spicy Peanut Butter and Jelly Cheeseburgers? They're all in George's book, but there are more mainstream favorites inspired by state fairs too, like funnel cake, pulled pork, and fragrant, warm roasted nuts.
You might know George as the author of The Cheesecake Bible, but there's no better authority on fair food than George. For more than 20 years, he was the culinary coordinator (and judge!) at the largest county fair in the country (it's Los Angeles, surprisingly). The stories he could tell! The story he does tell, in this lastest book, is a decidedly American story. And it's delicious. Let's go to the fair!
Get a taste of the recipes in this book:
Roasted Sugar Pecans
Pulled Pork Sliders
Candy Apples