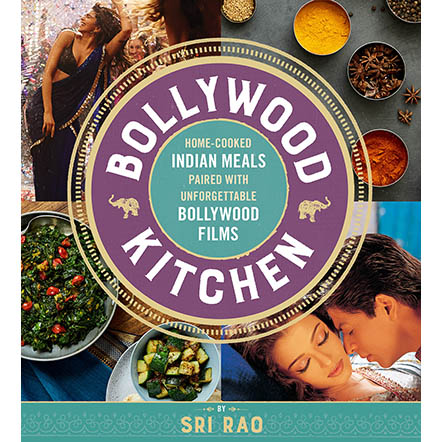 Thinking about throwing a Bollywood movie binge-watching party? Don't send out the evites before grabbing Sri Rao's new cookbook, Bollywood Kitchen. Sri's adapted his mother's Indian recipes for today's modern American cooks. If you've got a well-stocked spice cabinet, you can make just about any recipe in Sri's book without making a special trip to the Indian market—or any market, for that matter. Sri's taken your favorite Indian dishes and made them incredibly accessible, but still packed with the Indian flavors you'd expect.
• ON-DEMAND: Listen to Faith and the gang talk to Sri about the movies and recipes featured in Bollywood Kitchen. •
Sri pairs his recipes with his favorite Bollywood movies. If you're a fan, you'll find your favorites in these pages, too. Beautiful images, interesting backstories, and Bollywood icons abound. Even if you don't cook, the book is a feast for the eyes. But, do cook from it. Start with the Bollyburgers topped with mango salsa, which the Food Schmooze® team devoured during our pre-show meal.
What to make for your Bollywood Party:
Bollyburgers with Mango Salsa (Chris Prosperi recommends tripling the salsa. . .you'll want LOTS of it).
Chicken Korma (Chicken breasts smothered in rich yogurt sauce with almonds and raisins)
Masala-Crusted Salmon