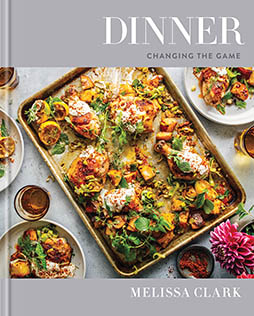 Cookbooks focused on dinner recipes are their own little sub-genre within the cooking category. And I'm fine with that. I encourage that. No busy person can have too many dinner recipes or cookbooks filled with dinner recipes. Keep 'em comin'!
So what does New York Times columnist and multi-cookbook author Melissa Clark's Dinner: Changing the Game bring to the table? Besides the fact that it's Melissa's warm, ever-approachable voice and always-reliable recipes here, it's permission to think about dinner a little differently. No more stressing every night over the meat and two sides formula. Melissa's developed strategies for cooking one delicious flavor-packed dinner, with as few pans as possible, as fast as possible. Emphasis on the word possible.
• ON-DEMAND: Listen to Faith and Melissa dish about many of the recipes in Melissa's new book. •
And the flavors! It's Melissa Clark's intuition about ingredients and flavor combinations that has Faith checking Melissa's column in The Times ahead of the news of the day. Who could blame her? A few of Faith's favorites: Spicy Roasted Shrimp with Eggplant and Mint, Za' Tar Chicken with Lemon Yogurt, Cumin-Chicken Meatballs, and Vietnamese Caramel Salmon.
You'll find lots of egg dishes (who doesn't love eggs for dinner?), pasta, pizza, soups, and salads. All your favorites. Call everybody to the table and consider the dinner hour won.
— Robyn Doyon-Aitken
Senior Producer
Get a taste of Melissa's book:
Chicken & Grapes with Sherry Vinegar
Spicy Roasted Shrimp with Eggplant and Mint
Black Bean & Roasted Poblano Quesadillas