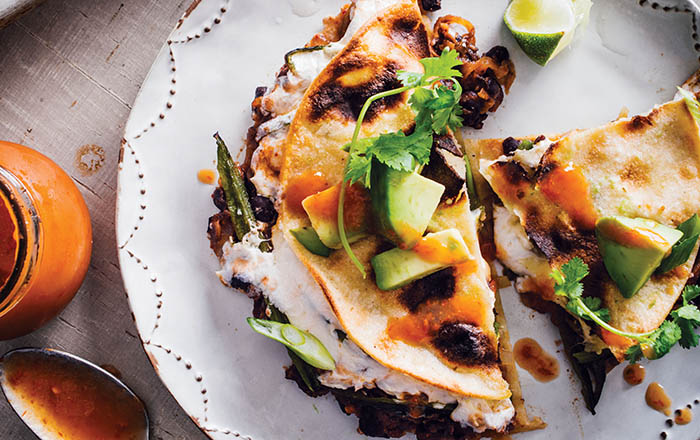 Here's a universal truth: everyone loves a quesadilla. That might be a slight exaggeration, but as crowd-pleasing dishes go, quesadillas are right up there with pizza, cheesy casseroles, and pancakes as home runs.
This version is a little more involved (but not much) than the usual cheese-filled tortillas, calling for highly seasoned black beans, smoked mozzarella, and roasted poblano chiles. (You can make the bean mixture up to five days ahead; warm it up in the microwave or in a pot on the stove before assembling the quesadillas.) But it's also a lot more sophisticated and interesting, and makes for an unexpected Mexican-inspired meal that is in no way authentic.
I also like to trot these out as a party hors d'oeuvre, cutting them in thin wedges and serving with guacamole, pea-studded or otherwise, or lime crema on the side for dipping. Or, treat them like a fancy side dish and serve them next to a simple grilled steak, maybe one marinated with cilantro, honey, and lime.
— Melissa Clark
ON-DEMAND: Listen to Faith and Melissa dish about the recipes in Dinner on The Faith Middleton Food Schmooze®.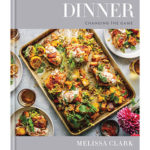 Reprinted from Dinner. Copyright © 2017 by Melissa Clark. Photographs copyright © 2017 by Eric Wolfinger. Published by Clarkson Potter/Publishers, an imprint of Penguin Random House, LLC.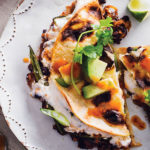 Roast the poblanos over an open flame on a gas burner or under the broiler, turning them regularly until they are blackened all over, about 8 minutes. Place the roasted poblanos in a large bowl, cover it with a plate, and let them steam until they have softened, about 15 minutes. Using paper towels, rub off the poblano skins, remove the stems and seeds, and slice the chiles into narrow strips.

While the peppers are steaming, heat a 12-inch skillet over medium heat, then add 2 tablespoons olive oil. Add the onion and 1/2 teaspoon of the salt; cook until the onion is nicely browned at the edges, 8 to 10 minutes. Add the tomato paste, garlic, and chili powder, and cook until fragrant, 1 to 2 minutes. Then add the beans, 1 cup of water, and the remaining 1/2 teaspoon salt, and mash with a potato masher or the back of a large fork until about half of the beans are mashed and the liquid has been absorbed, about 7 minutes.

Arrange a rack as far from the heat source as possible, and heat the broiler.

To assemble the quesadillas, brush one side of half of the tortillas with olive oil, and flip them over onto a baking sheet, oiled-side down. Spread 2/3 cup of the bean mixture evenly over each tortilla, and then layer it with poblano strips, shredded cheese, cilantro leaves, and a squeeze of lime juice. Top with the remaining tortillas, and brush the tops with olive oil. Broil until the quesadillas are nicely browned, 3 to 5 minutes. Serve with lime wedges and avocado slices if you like.