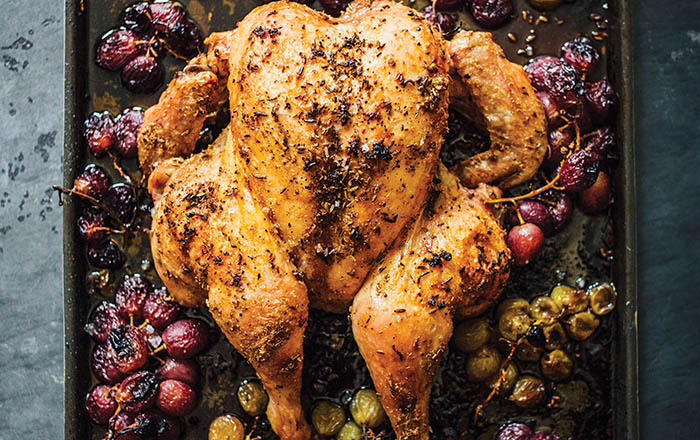 Spatchcocking chicken, also called butterflying, calls for cutting the bird along its backbone, then opening it up so that it can lie flat in the pan. Spatchcocked chickens cook quickly and evenly, turning gorgeously brown in the process. You can ask your butcher to spatchcock the chicken for you, but it's not a hard thing to do yourself. Good, sharp poultry shears are all you need.
Roasting grapes with a sprinkle of sugar and some sherry vinegar is one of those culinary party tricks that I pull out whenever I want to seem impressively elegant without actually doing much work. Here it is with a golden spatchcocked chicken. This is company-worthy, weeknight easy, and exceedingly pretty if you use a combination of red and green grapes.
If you like, you can skip making the pan sauce and just serve the chicken with the grapes on top, drizzled with the sherry vinegar.
I love this with polenta made with lots of butter, or nutty, plump farro tossed with plenty of olive oil while still hot after cooking. In both cases, you want the fat to contrast with the vinegar in the grapes.
— Melissa Clark
ON-DEMAND: Listen to Faith and Melissa dish about the recipes in Dinner on The Faith Middleton Food Schmooze®.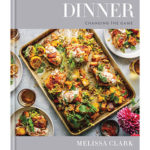 Reprinted from Dinner. Copyright © 2017 by Melissa Clark. Photographs copyright © 2017 by Eric Wolfinger. Published by Clarkson Potter/Publishers, an imprint of Penguin Random House, LLC.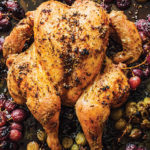 In a small bowl, combine the 1 tablespoon salt, fennel seeds, 1 teaspoon pepper, lemon zest, and 1 tablespoon of the olive oil. Rub this mixture generously over the chicken. Place the chicken, skin-side up, on a rimmed baking sheet and let it stand for at least 1 hour.

About 15 minutes before you are ready to cook the chicken, heat the oven to 475°F.

Transfer the chicken to the oven and roast it for 20 minutes.

In a small bowl, toss the grapes with the remaining 2 teaspoons olive oil, the sugar, and salt and pepper to taste. Scatter the grapes around the chicken, and roast until the chicken is just cooked through and the grapes are lightly caramelized, 20 to 25 minutes.

Transfer the chicken to a cutting board to rest. Spoon the grapes into a bowl. Place the baking sheet over two burners on medium-high heat. Add the vinegar to the pan juices and scrape up the browned bits from the bottom of the baking sheet. Pour the mixture into a small saucepan and warm it over medium heat. Whisk in the butter.

Carve the chicken and top it with the grapes and spoonfuls of the sauce.
Total time: 1-3/4 Hours + at least 1 hour marinating