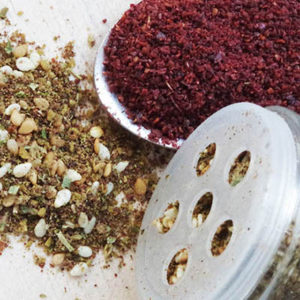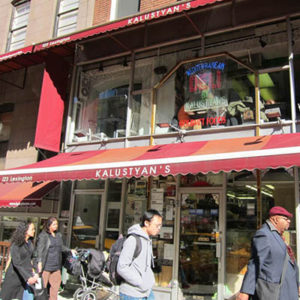 If you caught the latest Food Schmooze® on the radio or podcast, you likely wanted to get right to work on guest Ana Sortun's Green Apple Fattoush, or maybe you wanted to make a mug of Tahini Hot Chocolate when the temperature dipped. Maybe you plan on making the Warm Walnut Hummus with Pomegranate and Cilantro for a Christmas appetizer or those Sesame Cashew Bars for a homemade gift.  We can help.
If you're new to the world of Middle Eastern cooking, you may want to go beyond your everyday grocery's global foods aisle and hit a specialty shop where you'll find everything you need to cook your way through Ana's new cookbook Soframiz, co-authored by executive pastry chef Maura Kilpatrick.  Here are some notable markets in our area, as well as a few online markets Ana recommends.
Cosmo's International Market
770 Farmington Ave. , West Hartford, CT
Note: This is one of Chris's favorite places for Middle Eastern ingredients. They have everything, he says.
Dunya's Falafel Restaurant & Grocery
584 Plank Rd., Waterbury, CT
Tangiers International Market
550 Farmington Ave. , Hartford, CT
Saeed's International Market
464 Ocean Ave., New London, CT
Note: Faith recommends the hummus and the baba ghannuj
Kalustyan's (in the neighborhood known as Curry Hill)
123 Lexington Ave. , New York, NY
Olive Oyl's Carry Out
77 Main St., Essex, CT
Note: Some homemade Middle Eastern specialties; the owner's wife is Middle Eastern and makes excellent hummus and baba ghannuj.
Source for Maras Pepper: Formaggio Kitchen
Cambridge, MA
Ana's favorite pomegranate molasses is Mymouné, made by a cooperative at the foot of Mount Sannine in Lebanon. It is available at some Middle Eastern specialty stores, sofrabakery.com, or mymoune.com.
Ana and Maura love the brand Tohum, which is a dark-roasted organic tahini from Turkey (tohum.com). It is available at specialty grocers or on Amazon. They also recommend the super-fresh tahini from Brooklyn Sesame, which you can order at brooklynsesame.com, and the ultra-creamy Soom brand from Philadelphia (soomfoods.com), which you can find online from several sources.
Photos: left, Pixabay.com; right, Jason Lam/Flickr, creative commons