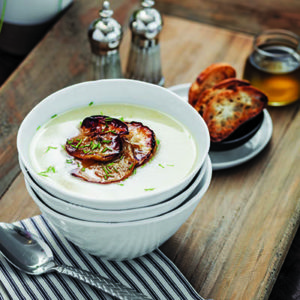 Every Thanksgiving, I vow that next year I will find a willing friend to host us and our enormous tribe, and every year, I end up gathering family and friends, with assorted waifs and strays, and doing it myself.
For a few years, I collapsed at the table, exhausted, barely able to keep my eyes open, until I realized I had to print out a timeline.  Now, I start the preparation three days before, so by the time Thanksgiving arrives, everything is done and I can actually enjoy myself.
The beauty of this soup, which has become out mainstay, is that it gets better with time.  Make it the day before and the spices really come out.  Omit the cream and it doesn't really get any healthier.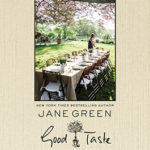 Reprinted with permission from GOOD TASTE, NAL Books, 2016. By Jane Green. Photo credit: Tom McGovern.
ON-DEMAND: Listen to Faith and Jane discuss this recipe—and others for the holidays. And read our review to learn more about Jane's new book.

Heat the butter and, when foaming, add parsnips, apples, celery, and onions, and soften them without letting them change colors.

Add curry, cumin, coriander and garlic and cook for about 2 minutes, stirring all the time. Add the stock, bring to a boil, cover and turn down to simmer gently for half an hour until parsnips are soft. Purée with handheld blender and add more stock if too thick. Season with salt and pepper to taste. Add cream. Garnish with chopped chives and apples, if using.