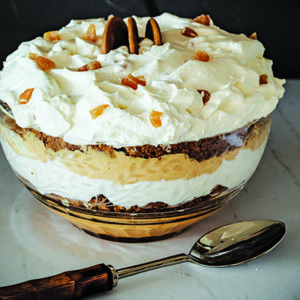 My mother-in-law, aka the Sherpa, gave this recipe to me.  It was the start of my real bonding with the man who was to become my husband.  We were on very polite, early dating behavior when we both offered to help clear the table after this insane dessert had been served.  Within 30 seconds, the pair of us were hiding in the kitchen, spoon-deep in the crystal bowl, finishing this off.  I knew then it was true love.
The first thing the Sherpa does is make the gingerbread, which frankly, seems to me to be absolutely bonkers.  The Sherpa is a wonderful cook, but she and I cook very differently.  She likes fine French food, and I like throwing things together, very easily, and eating family-style.  We threw a dinner party for her last year, and I asked casually, whether she had any recipes she might like us to cook.  "Oh yes," she said, her face lighting up.  "I'll bring them over tomorrow."
The next day she appeared with a sheath of papers. It was about 3" thick. Apparently, while I was reading it, all the color drained from my face.
The Sherpa makes this trifle entirely from scratch.  I would strongly advise a gingerbread mix, adding the fresh and crystallized ginger to give it some zing.
If, however, you are like the Sherpa and you still want to do it from scratch, even though I will think you are nuts, I have included the recipe for the gingerbread.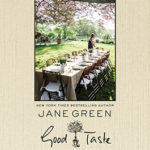 Reprinted with permission from GOOD TASTE, NAL Books, 2016. By Jane Green. Photo credit: Tom McGovern.
ON-DEMAND: Listen to Faith and Jane discuss this recipe—and others for the holidays. And read our review to learn more about Jane's new book.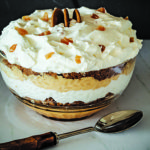 Preheat oven to 350 degrees.

Butter and flour a 10" springform pan.

Stir together flour, cinnamon, cloves, ground ginger, baking soda, and salt in a bowl.

Mix sugar with oil, juice, molasses, eggs and fresh ginger in a large bowl. Mix in crystallized ginger. Stir in flour mixture.

Pour into prepared pan. Bake for 1 hour.

Cool for 10 minutes, then remove from the pan and cool completely.
Make the custard and cream
Preheat oven to 325 degrees.

Scald the half-and-half in a heavy saucepan (which means take it to the edge of boiling, then remove from heat).

Beat eggs, sugar, molasses, cinnamon, ginger, nutmeg and salt. Mix in pumpkin and half-and-half. When it is smooth, put it in buttered baking dish, which you then put into a bain-marie: put dish into larger baking dish, and fill larger dish with hot water to about 1" below the rim of the custard dish. Bake for 50 minutes and start to check it. You want a set, firm custard, so that a knife inserted into the center comes out clean. Cool and refrigerate overnight.

To make whipped cream, whip heavy cream with vanilla extract, then fold in crystallized ginger, and set aside.
To assemble your trifle, spoon half the pumpkin custard into a trifle bowl and layer the gingerbread over that and then half the whipped cream. Do it again. Top the final layer of whipped cream with gingersnaps, or gingersnap crumbs, and if you like, drizzle with Calvados.