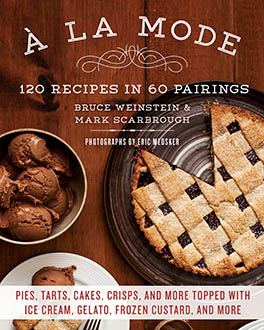 Like lots of recipes the dynamic duo of Bruce Weinstein and Mark Scarbrough create, the latest ones on my radar are over the top. Over the top. Or on the side. I'm talking about ice cream, of course, and their new cookbook, À La Mode. Subtitle: 120 Recipes in 60 Pairings. Can you imagine?
This is a cookbook for diehard dessert lovers, for adventurous cooks, and for those of us with ice cream machines and a proclivity for pairing. If you believe that pies, tarts, cakes, and crisps have soul mates they're meant to be with, this book is for you.
But take that basic idea of pairing, and now get imaginative. Bruce and Mark are anything but boring, and it carries over to the way they think about desserts and flavor pairings. Examples of what I mean: Apple-Cranberry Streusel Pie with Honey Camembert Ice Cream, Peanut Brittle Tart with Popcorn Frozen Custard, Graham Waffles with Black Currant Jam Swirl Ice Cream, Chocolate Whiskey Bundt with Ginger Glaze with Gingersnap Ice Cream, Cinnamon Roll Cake with Maple Frozen Custard, Carrot Sheet Cake with Horchata Ice Cream. I want to try these, don't you?
If you don't have the book yet, no worries. You can get started on three of our favorite (approachable!) recipes from the book here. Make one or the other, or both. Just start with the sour cherry cobbler (it's August, people!):
Bacon-Maple Walnut Pie and Malt Frozen Custard (We want this now, and for Thanksgiving!)
Sour Cherry Cobbler and Cannoli Cream Ice Cream (NOW. . .as in, this weekend).
Big Soft Vanilla Bean Cookies and Chocolate-Peanut Butter Sorbet (Any ol' time. Am I right peanut butter cup, fans?)
Listen to Mark describe his recipes on The Faith Middleton Food Schmooze® and get his tips for flavor pairing and making perfectly cooked custard.
On a side note, the book is loaded with pro tips that'll make you a better baker and the couple's writing style will make you smile more than once as you work your way through their company-worthy dessert recipes.
—Robyn Doyon-Aitken
Senior Producer