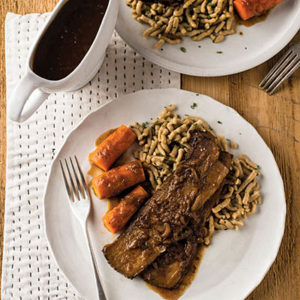 We're celebrating Easter and Passover with more ideas for baked hams—and not one, but two—authorities on Jewish cooking share recipes for old-school brisket, chocolate-almond meringues, and oh-so-many ways with matzo. First, Leah Koenig, the author of Modern Jewish Cooking, shares recipes for freshened-up classics, like Matzo Ball Soup, then, in our final segment, David Kirschner, the recipe creator behind the book Matzo, shares some fun ways with everybody's favorite unleavened cracker. The most fun? Matzo Nachos, of course.
Aired: March 29, 2018
Photo: Anytime Brisket with Matzo Spaetzle by © 2017 Jennifer May
CONTRIBUTORS AND GUESTS:
• Chris Prosperi — chef/owner, Métro Bis in Simsbury, Conn.
• Alex Province — wine expert
• Robyn Doyon-Aitken — senior producer
• Leah Koenig — author of Modern Jewish Cooking
• David Kirschner — recipe creator of the book Matzo by Michele Streit Heilbrun
MUSIC:
• "Can't Stop the Feeling," Justin Timberlake
• "Peaceful World," John Mellencamp and India.Arie
• "Beans and Cornbread," Louis Jordan and The Tympany Five
• "Cheryl's Theme," Sandcatchers *
• "Seder Plate," The Macaroons
• "Everybody Eats When They Come to My House," Cab Calloway
* A note on the music: our guest Leah Koenig pointed us to the beautiful music that closes out her segment. It's called Cheryl's Theme, by the group Sandcatchers. The band's talented guitarist, Yoshie Fruchter, happens to be Leah's husband. You can hear the entire song and watch a video of the performance on his web site, YoshieFruchter.com.