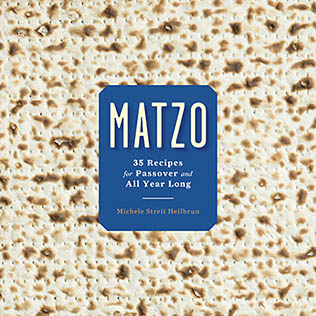 Streit's matzo heiress Michele Streit Heilbrun puts the "great" in great-granddaughter in the new cookbook Matzo, her collaboration with Michelin-trained chef David Kirschner. The goal was to reinvent Passover classics with the Kosher staple, and they've done so in the most fun ways.
Matzo Nachos? Yes, they're in here. And they include Pickled Jalapeños. You'll also find Matzo Granola, Matzo-Crusted Salmon, Fried Chicken, Matzo Tacos, Lemon Pancakes, Rocky Road Truffles, and ultra-crispy Chocolate Chip Cookies made with matzo meal and matzo cake meal. Double good. See how this works?
ON-DEMAND: Listen to Faith and David discuss many of the recipes in Matzo.
There are the classic recipes you'd expect, of course: Matzo Brei, Matzo Ball Soup, a gorgeous brisket. Mikie (Michele's nickname) and David's recipe includes Matzo Spaetzle flavored with a hint of nutmeg. Chris Prosperi approves!
If you're looking to breathe new life into your Seder while holding on to the flavors of your childhood, or you just want more fun ways to use up a box of matzos, this is the book for you.