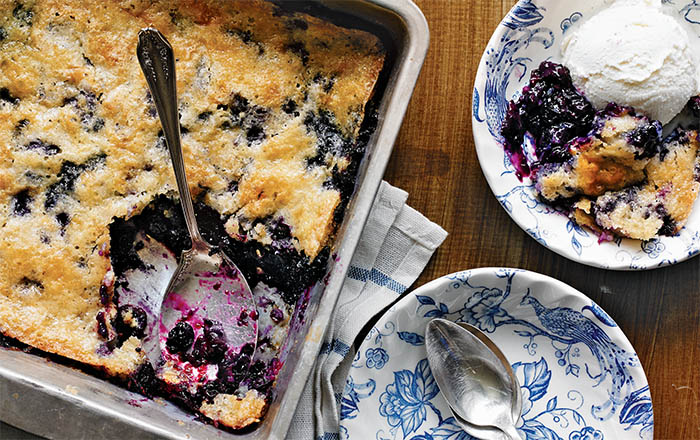 Call it the reverse cobbler. Instead of fruit on the bottom and biscuit dough on the top, David Joachim, author of Global Kitchen, turns it upside down and uses a dough that's close to a pancake batter. The dough goes in the bottom of the pan and the fruit is strewn across the top. Hands-on time in this recipe, about seven minutes. Delicious, too.
—Faith Middleton
Listen: This recipe received raves on a recent Faith Middleton Food Schmooze®. Listen on-demand now.
This recipe is excerpted from Cooking Light Global Kitchen: The World's Most Delicious Food Made Easy by David Joachim, ©2014 by Time Home Entertainment Inc.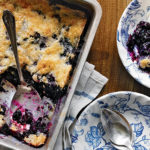 Preheat oven to 350˚. Place butter in 8-inch square metal baking pan; place in oven 3 minutes or until butter melts.

While butter melts, weigh or lightly spoon flour into a dry measuring cup; level with a knife. Combine flour, 6 tablespoons sugar, baking powder, and salt in a medium bowl; stir with a whisk until blended. Combine milk, lemon rind, and vanilla; add to flour mixture, stirring with a whisk just until moist.

Pour batter over melted butter in pan (do not stir); top with blueberries. Sprinkle with remaining 2 tablespoons sugar. Bake at 350˚ for 35 to 40 minutes or until bubbly and crust is lightly browned. Serve with ice cream.