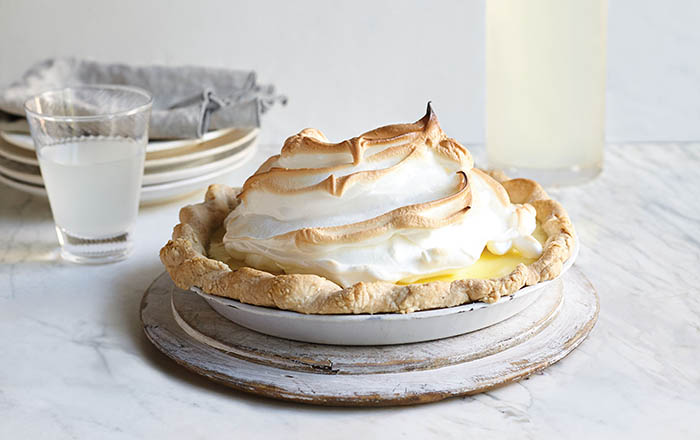 Aunt Lulu Belle and Uncle James's property adjoined ours, and there was a well-worn path between our two backyards. Her boys, Jeff and Mark, were older than my sister and me, but they were still our favorite playmates when we were young. While we played, Lulu Belle was always busy in the kitchen cooking, putting up fruits and vegetables from their garden, and trying her best to just keep track of us all. Her pies have always been legendary in our family and this lemon meringue is a favorite. I've updated her recipe to use butter instead of margarine, and I love it even more!
— Robyn Stone
Sub-recipes include:
Perfect Piecrust
Mile-High Meringue
• ON-DEMAND: Listen to Faith and Robyn discuss this recipe on The Faith Middleton Food Schmooze®. Subscribe to the podcast and never miss a drop of pleasure. •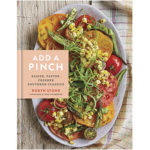 Excerpted from Add a Pinch: Easier, Faster, Fresher Southern Classics by Robyn Stone. Published by Clarkson Potter Publishers, an Imprint of the Crown Publishing Group, a division of Penguin Random House LLC.  ©2017 by Robyn Stone, Photographs © 2017 by Helene Dujardin.

Preheat the oven to 375°F.

In a large saucepan set over medium heat, combine the milk, sugar, cornstarch, and salt. Cook, whisking constantly, until the mixture begins to boil and becomes very thick, about 12 minutes.

In a small bowl, whisk the egg yolks. Pour about ½ cup of the hot milk mixture into the egg yolks and whisk thoroughly. Pour all of the egg mixture back into the milk mixture and cook, whisking constantly, until it begins to boil, about 3 minutes. Cook until the filling is thick and coats the back of a wooden spoon, 2 more minutes. Remove the pan from the heat and stir in the butter and lemon juice. Fold in the sour cream. Pour the filling into the prepared pie shell. Cover the filling with the meringue, making sure to spread it all the way to the edges of the crust.

Bake until the meringue is golden brown, about 10 minutes. Transfer the pie to a wire rack and let cool to room temperature. Refrigerate until cool, for at least 1 hour, before serving.