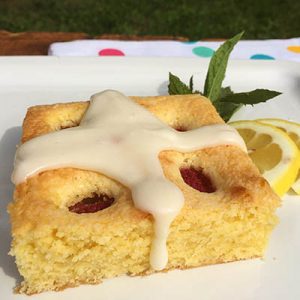 Amanda Glover's sweet Raspberry Lemonade Bars are summer in a bar. Hello, summer bake sale! SO worth turning the oven on to bake these.
• ON-DEMAND: Listen to Faith and Amanda talk about this recipe and Amanda's Airstream bakery. •
Photo: Courtesy of Amanda Glover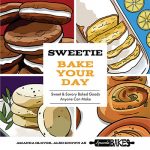 Recipe excerpted from Sweetie Bake Your Day: Sweet & Savory Baked Goods Anyone Can Make by Amanda Glover. Published by Ingram Spark Publishing. Copyright © 2017 Sweetie LLC.
Preheat oven to 350°F. Butter a 9 x13-inch baking pan.

In a small bowl, stir flour and salt together.

In a large bowl, mix softened butter and sugar together until well combined. Whisk in the eggs, lemon juice and lemon zest. Add flour mix and stir with a spatula until smooth and combined. Pour batter into prepared baking pan and spread out evenly. Sprinkle raspberries over the top of the batter. Bake for approximately 25 minutes. While the bars are baking make the glaze. Simply stir together the powdered sugar, lemon juice and zest. Pour over cooled bars.

Remove from oven and let cool completely before glazing.