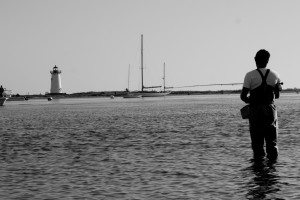 Faith's nephew Doug is an expert fish cooker, especially after his stint working at New York's famed temple of seafood, Le Bernardin. Even bluefish, which can be oily, was fantastic the way Doug made it at home, often with breadcrumbs and mustard added before baking. The key, of course, is to buy very fresh bluefish, meaning that your seafood market should agree to call you as soon as a local fisherman has brought some in. If you're lucky, you live near someone who loves to fish for them in late August and into September. Cook it right away.
Try this recipe Faith likes. With these ingredients, bluefish is treated the way pork is treated in many Latin dishes — the protein is enhanced with citrus juices. Even bluefish avoiders will like this one.

Preheat oven to 350º F. Grease a baking dish with olive oil. Place the very fresh bluefish fillets in it.

In a bowl, mix together the onions, tomatoes, and peppers. Place the mixture on top of the fish.

Combine the remaining ingredients and pour over the bluefish and vegetables. Bake at 350º F for 20 minutes or until the fish is white and flaky.