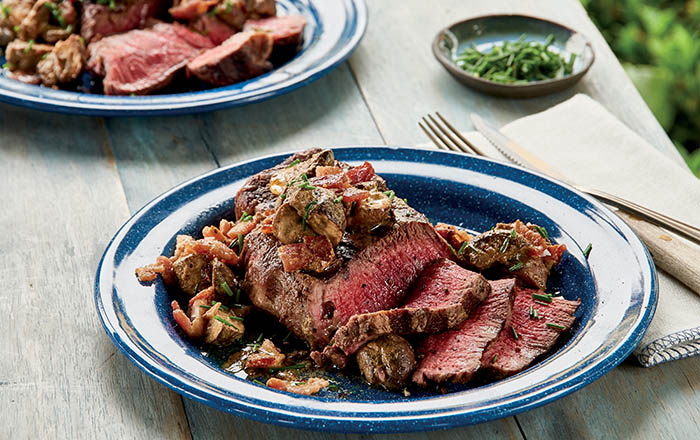 Nearly everyone likes filet mignon hot off the grill, making this your go-to recipe for that special dinner party. When cooking the mushrooms, spread them so they are not touching one another. That way, they will roast rather than steam, developing a rich flavor.
— Jamie Purviance
• ON-DEMAND: Listen to Faith and the gang talk to Jamie about his top grilling tips and hear how this recipe comes together. •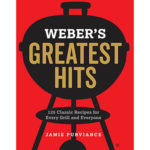 Excerpt from WEBER'S GREATEST HITS: 125 Beloved Recipes for Every Grill and Everyone by Jamie Purviance. Copyright © 2017 by Jamie Purviance. Photography © 2017 by Ray Kachatorian. Used by permission of Houghton Mifflin Harcourt. All rights reserved.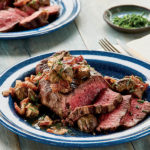 Servings

Prep Time

4

people

15

minutes
Servings

Prep Time

4

people

15

minutes
Brush the steaks on both sides with oil and season generously on both sides with salt and pepper. Let the steaks stand at room temperature for 15 to 30 minutes before grilling.

Prepare the grill for direct cooking over high heat (450° to 550°F) and medium heat (350° to 450°F).

In a skillet over medium-low heat on the stove, cook the bacon and onion until the bacon is crisp and the onion is tender, 6 to 8 minutes, stirring occasionally. Remove from the heat.

In a small bowl whisk together the vinegar, mustard, and garlic. Gradually whisk in the oil until emulsified and then whisk in the salt and pepper. Put the mushrooms in a medium bowl, add ¼ cup of the vinaigrette, and mix well. Set aside the remaining vinaigrette.

Brush the cooking grates clean. Preheat a perforated grill pan over medium heat. Remove the mushrooms from the marinade and spread in a single layer on the pan. Cook over direct medium heat, with the lid closed, until golden brown and tender, 6 to 8 minutes, turning once or twice. Don't move the mushrooms until the undersides are nicely browned.

Meanwhile, grill the steaks over direct high heat, with the lid closed, until cooked to your desired doneness, 8 to 10 minutes for medium rare, turning once. Remove from the grill and let rest for 3 to 5 minutes.

Transfer the mushrooms to the skillet with the bacon and onions and warm over medium heat on the grill for about 1 minute, stirring often. Add the chives and mix well. Serve the steaks warm with the mushroom mixture spooned on top. If desired, whisk the reserved vinaigrette to recombine and drizzle some over each steak.