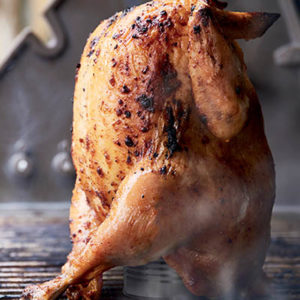 Grill master Jamie Purviance joins the party with recipes and grilling tips for your Father's Day cookout: Beer Can Chicken, Beef Tenderloin with Seared Mushrooms, and a Pineapple Upside-Down Cake cooked on the grill. Plus, two notable red wines to try (one is a blend aged in bourbon barrels, and one is great with grilled foods).  And an expert explains how to shuck oysters like a pro. John Bertino, chief oyster shucker at the Oyster Club in Mystic, CT, shares some laughs and explains the art of oyster shucking. For dessert: an absurdly easy recipe idea for three-ingredient espresso ice cream you can make without a machine.
Aired: June 18, 2020 (Originally aired June 15, 2017)
Photo: Hickory-Smoked Beer Can Chicken from Weber's Greatest Hits by Ray Kachatorian. Copyright © 2017 by Ray Kachatorian. Used by permission of Houghton Mifflin Harcourt. All rights reserved.
CONTRIBUTORS AND GUESTS:
Chris Prosperi — chef/owner, Métro Bis in Simsbury, Conn.
Alex Province — wine expert
Mark Raymond — wine expert
Robyn Doyon-Aitken — senior producer
John Bertino — oyster shucker at Oyster Club, Mystic CT
Jamie Purviance — author of Weber's Greatest Hits
MUSIC:
"Can't Stop the Feeling," Justin Timberlake
"This City," Patrick Stump
"Beans and Cornbread," Louis Jordan and The Tympany Five
"Oysters & Beer," Carl M. Banks
"Good Times," Chic
"Everybody Eats When They Come to My House," Cab Calloway