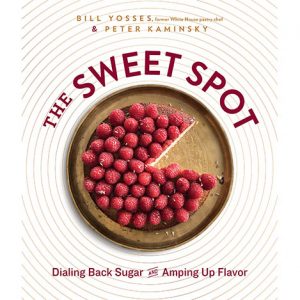 Use this crust to make Bill Yosses' Maple Apple Tarte Tatin.
• ON-DEMAND: Listen to Faith and Bill describe this recipe, as well as others from the book. •
Reprinted from The Sweet Spot by arrangement with Pam Krauss Books, a member of Penguin Group (USA) LLC, A Penguin Random House Company. Copyright © 2017, Bill Yosses
Servings:
9-inch single crust
Combine the flours and salt in the bowl of a food processor and pulse one or two times. Add the butter pieces and pulse until the mixture resembles tiny pebbles. Gradually add the water and pulse just until the dough comes together. Dump the dough onto a work surface and flatten into a 1⁄2-inch-thick disk. Wrap in plastic and freeze for at least 20 minutes or refrigerate overnight. (If doubling the recipe, divide the dough into two equal portions, then flatten and wrap each portion separately.)

Dust a work surface and a rolling pin with flour. Roll out the dough (north, south, east, and west) into a 1⁄4-inch-thick circle. To prevent sticking, sprinkle a bit of flour on the dough as you work and flip the dough over occasionally. On the last roll, roll it out to 1⁄8-inch thickness. Lift the dough around the edges to "weigh" it with your hands; it should feel uniform.

Preheat the oven to 400°F.

Transfer the dough to a 9-inch pie plate, rolling it back onto the rolling pin as you would a carpet. Set the pin over the pie plate at the edge nearest you and unroll the dough over and into it. Using your index finger, push the dough into the plate where the bottom meets the sides, pressing into the rim with your opposite thumb. Working around the pie plate, pinch the dough along the rim to make a lip that overhangs by 1⁄2 inch into the pie plate (this enables you to form a fluted edge), then flute the edges by interlocking your thumbs and index fingers, working your way around the rim. Freeze until the dough is as hard as a rock, 20 minutes to 1 hour (this will prevent the dough from shrinking as it bakes). Fill the crust as directed and bake, with or without a top crust.