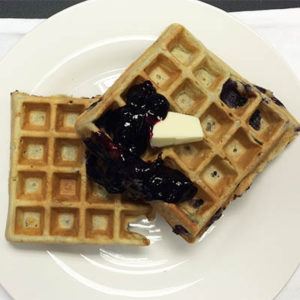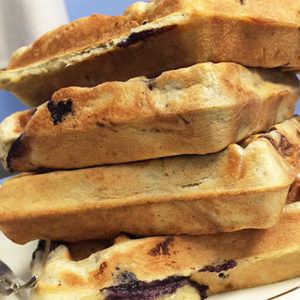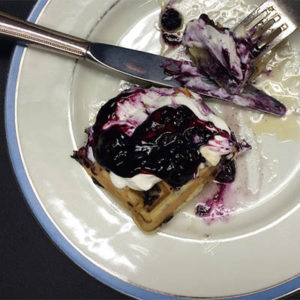 We loved the waffles Chris made for this week's pre-show meal. Our show was a celebration of summer berries, and the waffles were a perfect way to highlight these farmstand beauties.

For the blueberry compote
To make the compote: Place 2 pints of blueberries, the syrup and 1/2 teaspoon salt in a pot and cook for 15 minutes. Let cool, pack in jars or a container and store in the refrigerator until ready to use.

To make the waffles: In a bowl, mix together the flour, salt, baking powder and sugar.

Separate the egg yolks from the egg whites and set the whites aside. Then mix together the egg yolks, milk, melted butter and blueberries.

Add the wet mixture (yolks, milk, butter, and blueberries) and dry ingredients together to make the batter and set aside.

Whip the egg whites to soft peak. Carefully fold the whites into the batter.

Preheat the waffle maker and follow the manufacturer's directions for cooking the waffles. Serve with the compote, maple syrup, and whipped cream, if you like.