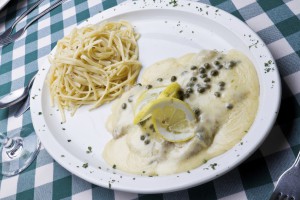 We know it's the time of roasts, chops and steaks, but we liked the sound of going Italian this year with Steve Martorano's version of veal piccata, brightened with lemon, Pinot Grigio and capers. We're going to serve roasted potatoes on the side, and drag every forkful through that veal sauce.
Steve's fans in Florida and Vegas can't get enough of this dish at his five restaurants; now we know why.

In a large sauté pan, heat the vegetable oil. Season the veal with the salt, pepper, and granulated garlic, and then lightly flour both sides of veal. Sear the veal in the hot oil, allowing it to brown on both sides. Then remove it from pan and set aside.

Add the wine to a separate hot pan, and allow the alcohol to burn off. Then add the chicken stock, lemon juice, and butter coated with flour. Simmer the sauce until it becomes thick and coats the back of a spoon. Add the veal to the pan, and coat with sauce. Place each piece of veal on a plate, top with the sauce, and garnish with parsley and capers.