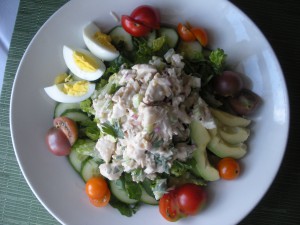 This is a rich, delicious, and filling salad. Great for lunch, or dinner, and perfect for a summer meal.

Mix all ingredients together and set aside
In a mixing bowl gently toss together the crab, red onion, celery, and chopped parsley. Then mix in about 1/4 to 1/2 cup of the dressing. Taste. Adjust with salt and pepper if needed.

Now take 4 large salad plates and arrange the cucumbers and tomato halves around the plate. Divide the lettuce in the middle of the plates and top with the crab salad. Then divide the egg quarters and avocado slices around the salad. Serve with fresh lemon wedges and the remaining dressing on the side.