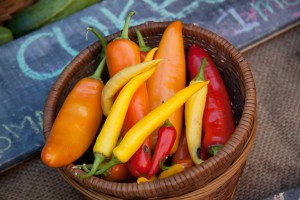 From Faith: I remember the first time Todd Friedland of Windham, Conn.,  handed me a cracker. On that cracker,  a smear of cream cheese and on top of that a dollop of his homemade peach hot pepper jelly. It was eye rolling good, and all the better because Todd was and is our vet on the show. He's kept me and our staff in his secret recipe hot pepper jelly ever since.
Todd is a home gardener so we invited him to talk about how he grows peppers and especially how he uses hot pepper jelly to make pan sauces like this one. Hot pepper jelly is widely available these days in a variety of flavors.

Flatten chicken with a mallet. Dip in egg wash and then bread crumbs. In a large skillet (not non-stick) heat oil on medium. Saute chicken until just done. Do not over cook. Meanwhile boil water for pasta. Remove chicken from pan and place in 200°F oven to keep warm.

Add pasta to water. (I like thin spaghetti.) Lower the heat to low, add wine and deglaze pan, scraping all the "bits" into the wine. Add broth and 1/3-1/2 cup jelly (more if desired). Bring to boil and simmer . Add salt, pepper, and 2 TBS butter. Simmer until just syrupy, add the remaining butter. taste for salt and pepper.

Remove chicken and place on plate. Add pasta to plate, pour sauce over all. I also like to serve it with broccoli.