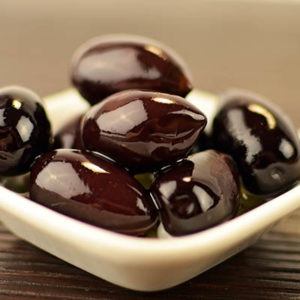 While we could be mistaken, we think something new has been created—Faith's spicy Puttanesca Bloody Mary. Our Google searches turned up no competitors.
This is a knock-out good cocktail designed for Puttanesca lovers.
Faith says make a double batch of sauce and use half to make Drunken Puttanesca Pasta. We're giving you Faith's Puttanesca recipe, and we're adding a spicy vodka from Waypoint Spirits, distilled locally in Bloomfield, Connecticut. It's designed specifically for peppery Bloody Marys.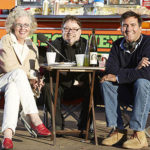 Listen to Faith dream up this cocktail while talking to Bloody Mary master Brian Bartels.

Place olive oil in a skillet and add garlic, anchovies, olives, and capers. Sautee for several minutes, stirring gently, until garlic turns translucent (not brown) and anchovies are melted. Add canned tomatoes and oregano, stirring to combine. Simmer, stirring occasionally, until sauce is heated, about 5-7 minutes. Remove the sauce from the heat and allow it to come to room temperature. At room temp, pour it into a pitcher.

Put 1 ounce of Waypoint spicy vodka (or regular vodka) in every cocktail glass. Fill almost to the top with the Puttanesca sauce. Taste one drink and if you can't taste the vodka, add another ounce and stir. Or, if its too salty or peppery for your taste, pour in plain tomato juice to the top and stir. Garnish with a slice of lemon, or a cooked shrimp.
If you do make a double batch of sauce, set aside one half the batch to make the cocktails. To make Drunken Puttanesca Pasta, reheat the second batch of sauce on low, add the Waypoint Spirits Spicy Vodka to taste, and mix the spiked sauce with your cooked pasta. Toss on some chopped cooked shrimp if you like protein with your carbs, as Faith does.