From Faith Middleton — Instead of simply improving upon classic pecan pie, we decided to develop the pecan pie of our dreams.  We passed on the traditional crust and gloopy, syrupy filling. Think: brown-butter Sea Salt shortbread filled with decadent double cream, topped with plenty of lightly-candied pecans.
An ingredient note here: Double cream, or clotted cream, is more decadent (richer, higher fat content) than regular whipped cream and far more stable in this recipe than whipped cream would be. If you use regular whipped cream, it's best if your crowd eats the whole pie in one sitting since the cream will lose its air after about three hours. Devon of England, sold in jars in many gourmet shops in our region as Devon Cream, is my go-to, but you can order a great double cream online at bkcreamery.com. Local farms are also now making and distributing double cream.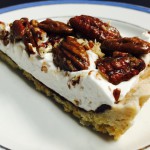 Preheat oven to 375 degrees. In a large mixing bowl add 6 tablespoons of the butter (reserving 2 tablespoons for making brown butter) the sugar, salt, lemon zest, flour and egg yolks.

Heat a small pan over high heat for 1 minute, add the reserved 2 tablespoons of butter and cook until the butter turns a rich brown color and develops a nutty aroma. Add the brown butter to the bowl and mix together until you have a crumbly dough.

Now take a pie dish or tart pan and press the dough on to the bottom and up the side so you have an even cookie crust. Place in the preheated oven and bake for about 25 minutes or until light browned. Remove from oven a let cool completely.
Place the butter, sugar, and salt in a medium sized sauce pan and place over medium high heat. Cook until butter and sugar are melted. Add the nuts and lower the heat to medium low. Cook for 5-7 minutes stirring constantly. Remove from pan onto a lined sheet pan and let cool fully. Break apart any nuts the may have stuck together and set aside.
Once the shortbread and candied pecans are completely cool, fill the shortbread crust with cream and top with the pecans.
See the note in the recipe's description about where to get double cream. Oh, and if you're a chocolate-lover, I recommend serving it on the side, not in the recipe, where it competes with the seductive salty-sweet rhythm in the brown-butter shortbread. A plate of truffles on the table is always a good way to go.