Looking for a gluten-free option? This black quinoa-studded loaf will please not just GF diners, but everybody else at the table as well. The texture of the quinoa is meaty and packed with protein, and the sweet potato base is enriched with almond butter, chia, and all sorts of complex flavors.
— Robin Asbell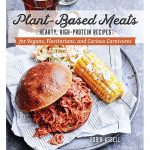 Reproduced from Plant-Based Meats by Robin Asbell, by permission of The Countryman Press. All rights reserved.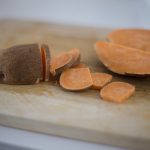 Servings

Prep Time

8

servings

35

minutes
Servings

Prep Time

8

servings

35

minutes
Preheat the oven to 375°F. Ready a 9-by-5-inch loaf pan by lightly greasing it with the canola oil and set aside.

In a small saucepan with a lid over high heat, bring the water to a boil. Add the quinoa, reduce the heat to low, cover, and cook for 14 to 15 minutes, or until the water is absorbed. Remove from the heat, cover, and set aside for 5 minutes to let the quinoa continue to steam. Remove from the heat, fluff, and set aside to cool.

In a large sauté pan over medium-high heat, warm the olive oil. Add the onion and sauté, stirring constantly, until it starts to sizzle. Reduce the heat to low and sauté for at least 10 minutes, or until soft and golden.

In a large bowl, combine the sweet potato, almond butter, chia seeds, chickpea flour, and dark miso in a large bowl. Mash with a fork until thoroughly combined. Add the cooked quinoa and sautéed onions, parsley, sage, salt, and black pepper and stir until well combined.

Scrape the contents of the bowl into the prepared pan and bake for 40 minutes. Remove from the oven.

In a cup, stir together the tomato paste, red miso, and vinegar.

Evenly spread the tomato paste mixture on top of the loaf. Return to the oven and bake for 20 minutes. Remove from the oven and set aside to cool for 5 minutes before slicing.