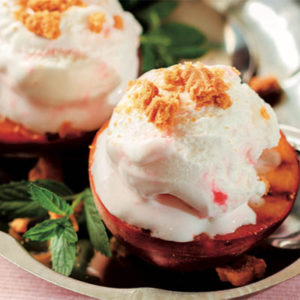 Peaches and rum are like an "a-ha!" moment, so perfectly do their flavors go together. Brush peach halves with a basting sauce of sweetened, cinnamon-flecked, rum-spiked butter, and they grill to perfection—sticky and caramelized on the outside, juicy and sweet throughout.
Excerpted from The Total Grilling Manual: 264 Essentials for Cooking with Fire. Edited by Lisa Atwood, © 2016 Weldon Owen, Inc. Photo: Shutterstock
On-Demand: Listen to Faith's conversation with Lisa Atwood and get more of Lisa's grilling tips.

Prepare a gas or charcoal grill for direct cooking over medium-high heat. Brush and oil grill grate. In a small saucepan over medium-high heat, combine butter, brown sugar, rum, cinnamon, and salt. Bring to a boil, then reduce heat to low and simmer, stirring often, until sugar is melted and mixture is syrupy, 2–3 minutes. Set aside.

Brush cut sides of peaches with oil. Place peaches, cut sides down, over direct heat on grill. Grill, basting once with rum sauce, until nicely browned, 3–4 minutes. Turn peaches and baste with glaze. Cover grill, and cook until browned on second side and fruit is tender, 3–4 minutes longer.

Top peaches with equal portions vanilla ice cream and remaining sauce