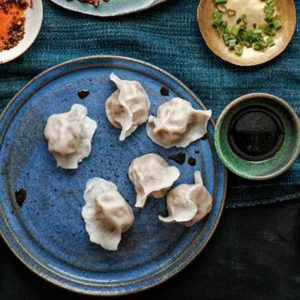 If you're seeking the most classic Chinese dumpling, look no further than pork and chives. The combination represents all of the balance that makes a great dumpling: sweet, rich meat plus bright, fresh vegetables. Just make sure you're using the right kind of chives: the Chinese kind, also called garlic chive, is broader and flatter than the Western variety, and has a much bolder flavor with the pleasant stink of garlic and onions. It's my favorite vegetable, and there's nothing else like it; you need its assertiveness for this dumpling.
— Helen You
If you make the wrappers from scratch, you'll need Helen You's recipe for Boiled Dumpling Wrappers.
ON-DEMAND: Listen to Faith and co-writer Max Falkowitz talk about these dumplings, as well as other dumplings for Chinese New Year.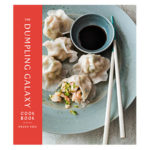 Excerpted from The Dumpling Galaxy Cookbook by Helen You with Max Falkowitz. Published by Clarkson Potter, an imprint of Crown Publishing Group, a division of Penguin Random House, LLC. Copyright ©2017 Helen You. Photograph ©2017 Ed Anderson.

In a medium bowl, use your hands to combine the pork, wine, ginger, soy sauce, and salt, and mix until well blended. Gently fold in the chives and mix until fully incorporated.

Bring a large pot of water to a boil. Meanwhile, make the dumpling wrappers. Holding a wrapper in your palm, use a fork to add about 1 tablespoon of the filling to the center of the wrapper, then lightly pat down the filling with the fork to get rid of any air bubbles.

Fold the dumpling into the round yuan bao shape, lightly squeezing the dumpling to push out any air bubbles. Inspect the dumpling for holes and pinch them shut. Repeat with the rest of the wrappers.

Working in batches, add the dumplings to the pot, 6 at a time. Boil for 2 minutes on high, then reduce the heat to medium-high and cook for 2 minutes, then reduce the heat again to medium and cook for 2 more minutes. The dumplings are ready a minute or so after they rise to the surface; their skins will turn puffy. Using a slotted spoon, gently transfer the dumplings to a plate and serve immediately. Bring the water back to a boil over high heat and repeat with the remaining dumplings.
Variation – Pork and Dill Dumplings
It may surprise you to hear that dill is a staple herb in northern Chinese cooking, thanks to influences from neighboring Russia and eastern Europe, where the herb is practically a food group. You find dill everywhere in the city of Tianjin—folded into steamed white rice or added to cooked barley or oats. Pork and dill dumplings are also a common dish; the herb's sharp, piquant flavor is a classic complement to pork and makes for a great dumpling.
Simply substitute ½ cup of chopped fresh dill for the chives—mix the herb with the pork and seasonings in step 1.
TIP: In some Chinese grocery stores, what they label as "garlic chive" is actually a kind of leek. Go for the long, flat-leafed, and savory-smelling greens just called "chives."