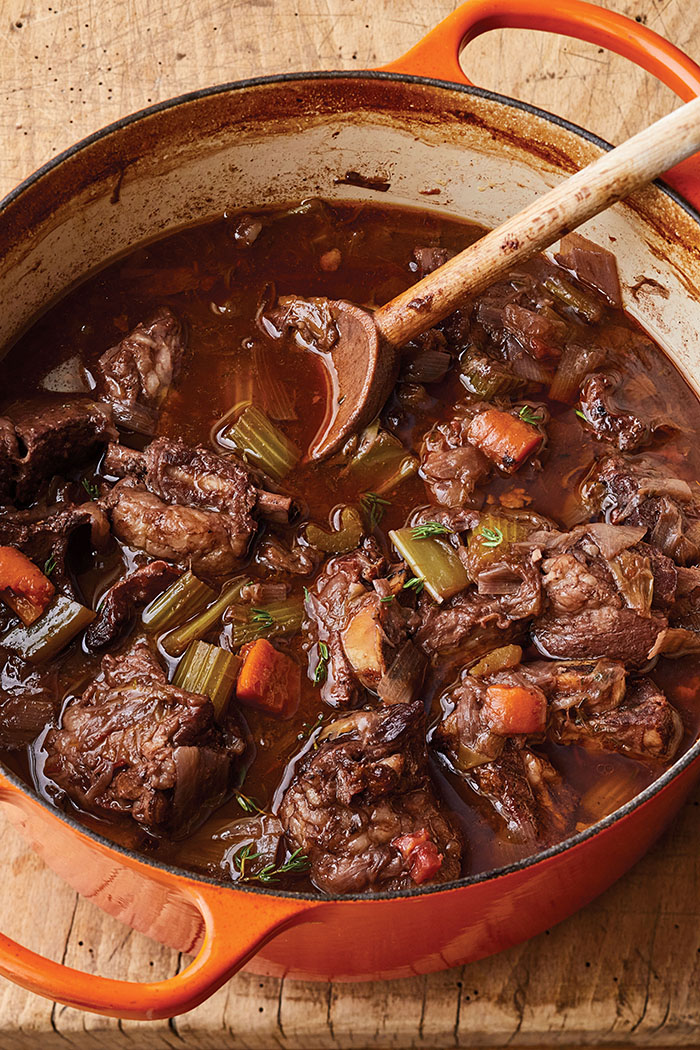 This may be my favorite recipe ever. In the winter when it's really cold, a hearty stew of beef short ribs simmered with a whole bottle of red wine, a bottle of Guinness, and lots of vegetables, then served over Creamy Blue Cheese Grits or Celery Root & Chickpea Puree, is about the most comforting dinner you can possibly imagine.
— Ina Garten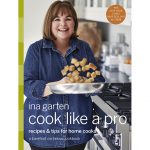 Reprinted from Cook Like a Pro: Recipes & Tips for Home Cooks. Copyright © 2018 by Ina Garten. Photographs by Quentin Bacon. Published by Clarkson Potter/Publishers, an imprint of Penguin Random House LLC
• ON-DEMAND: Listen to Faith and the gang have a blast talking with Ina about recipes from Cook Like a Pro on The Faith Middleton Food Schmooze®. •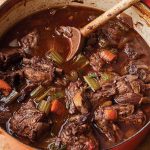 Preheat the oven to 425 degrees. Place the short ribs on a sheet pan, brush the tops with olive oil, and sprinkle with 1-½ tablespoons salt and 1-½ teaspoons pepper. Roast for 20 minutes and remove from the oven. Reduce the temperature to 325 degrees.

Meanwhile, heat ¼ cup olive oil in a large (12-inch) Dutch oven, such as Le Creuset, over medium heat. Add the leeks, celery, onions, and carrots and cook over medium to medium-high heat for 20 minutes, stirring occasionally. Add the garlic and cook for one minute. Add the wine, bring to a boil, lower the heat, and simmer over medium heat for 10 minutes, until the liquid is reduced. Add the stock, tomatoes, Guinness, thyme, 1 tablespoon salt, and 1-½ teaspoons pepper.

Place the ribs in the pot, along with the juices and seasonings from the sheet pan. Bring to a boil, cover, and cook in the oven for one hour. Uncover and cook for one more hour, until the meat is very tender.

Remove the short ribs to a plate with a slotted spoon and discard the thyme bundle and any bones that have separated from the meat. Simmer the sauce on the stove for 20 minutes, until reduced. Skim some of the fat off the top and discard.

Return the ribs to the pot, heat for 5 minutes, and taste for seasonings. Serve hot in shallow bowls spooned over creamy blue cheese grits, with extra sauce on the side.
Pro tip: Short ribs come in many sizes. Be sure you buy 2-inch ribs with lots of meat on them. Browning them on a sheet pan is so much easier—and less messy!— than in a pot on top of the stove.
Pro tip: Because garlic burns very easily, I almost never cook it with the onions; instead I add it one minute before adding the liquid.