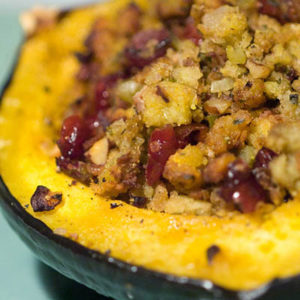 Alex loves squash of all kinds and created this dish using acorn squash and apples. It's perfect for fall and you can customize it to include the add-ins you like. Add dried cranberries for a little more sweet-tartness. If you're not a stuffing fan, use wild rice.
Photo: Jimsideas/Flickr, creative commons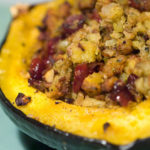 Cut acorn squash in half lengthwise and scoop out seeds.

In butter and olive oil, sauté onion and celery until transparent. Add apple, mushrooms, and garlic and continue to cook another minute or two. Season with salt and pepper. Remove and set aside in a large bowl.

In same sauté pan, break up sausage and cook until brown. Add to bowl. Deglaze the pan with chicken stock and add this liquid to the bowl along with stuffing mix and parsley. Combine ingredients well.

Add mixture into acorn squash cavity, cover with aluminum foil and bake in 350 degree oven for about an hour, or until squash is thoroughly cooked and flesh can be easily pierced with a knife. Remove foil and continue cooking until stuffing turns golden brown.