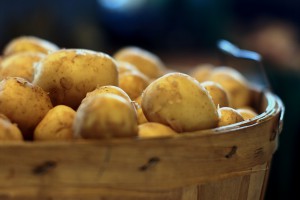 From Faith: Here's another brilliant idea from Jacques Pépin — making a luscious garlic-butter sauce to load into crispy baked potatoes along with escargot, or shrimp, scallops, or chicken, if you're turned off by snails. Even better, you fast-cook the potatoes to start in a microwave!
You'll find this in Jacques' new cookbook, called Jacques Pépin, Heart and Soul in the Kitchen, featuring dishes he likes to make for family and friends. Jacques has an incomparable gift, and he respects the needs of busy home cooks. (He once served me the simplest thing, broccoli stir-fried on high heat in a spaghetti pot with almonds and chorizo, and I almost fell out of my chair, though this compliment will probably amuse the former chef to the French President.)
If you use snails, Jacques says buy only the French ones in a specialty store or online; the cheaper Chinese snails "taste like mud." Again, substitute any protein you wish; my partner doesn't like snails so we use shrimp or chicken, both of which love to be paired with garlic-butter.) Also note that Jacques crisps the potato top with chopped bread pieces, another clever and satisfying element. Here's Jacques' recipe as it appears in his book, featured on this page:

Put the garlic, almonds, salt, pepper, parsley, and wine in a mini food processor or a blender and process for about 10 seconds. Add the soft butter and oil and process for about 30 seconds, until you have a smooth, creamy mixture. (The butter can be made several days ahead and refrigerated or even frozen)

Preheat the oven to 450 degrees. Meanwhile, microwave the potatoes on high for 10 minutes. Cut the cooked potatoes lengthwise in half. Scoop out most of the potato flesh, put it in a bowl, and season it with the salt and pepper.

Spread a total of about 1½ tablespoons of the garlic and herb butter in the bottom of the potato shells. Pile the seasoned potato flesh and the snails on top and dot the remaining garlic and herb butter randomly on top of the stuffed potatoes. Sprinkle on the coarsely chopped bread.

Arrange the potato halves on a baking sheet and bake for 10 to 12 minutes, until heated through and browned on top. Serve.