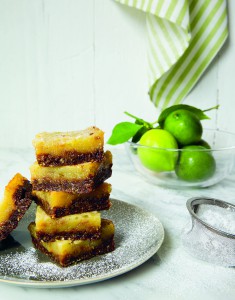 We love these because they're super limey and that plays well against the almond-gingersnap crust, studded with coconut. If you're tired of pies for Thanksgiving, try these, or make them for any old reason.

Preheat the oven to 350 degrees. Line the bottom and sides of a 9-by-13-in baking pan with aluminum foil, letting the excess hang over the sides of the pan. (The overhang will help you lift the bars from the pan.) Grease the foil.

Put the gingersnaps in the bowl of a food processor and grind to fine crumbs. Transfer the ground cookies to another bowl. Process the almonds, granulated sugar, and salt until finely ground. Add the cookie crumbs to the almond mixture in the processor bowl, then add the melted butter and coconut. Pulse until completely mixed.

Dump the crust mixture into the prepared pan and, using the bottom of a glass or measuring cup, press the mixture to compact and firm it in the bottom of the pan. Bake for 10 minutes, or until the crust is set and golden. Let cool on a wire rack for 20 minutes. Leave the oven on.
Whisk the granulated sugar and flour in a medium bowl, then whisk in the melted butter, eggs, lime zest, Key lime juice, and salt.

Pour the topping over the baked crust and bake for 40 to 45 minutes, or until the topping is set.

Let cool completely in the pan on a wire rack, then cover and refrigerate until fully set, about 2 hours. Loosen the sides with a knife if necessary and lift the bars from the pan using the overhanging foil. Gently turn and peel the foil off the crust (it might stick a little), then turn right-side up and transfer to a cutting board. Cut the bars with a large knife into 2-in squares, wiping the knife clean with a damp paper towel between cuts. Dust with powdered sugar if desired. Store, covered, in the refrigerator for up to 2 days.