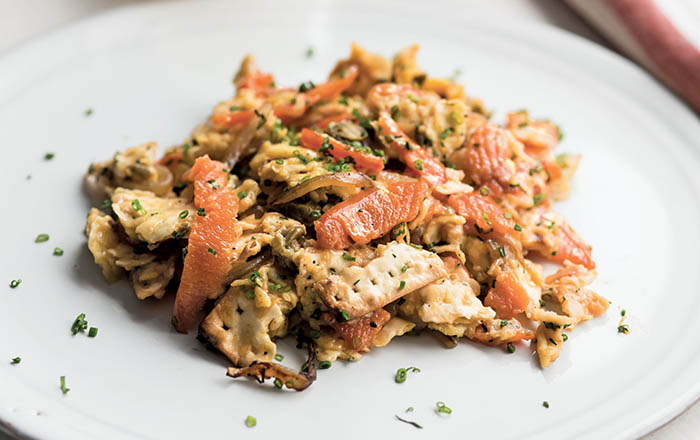 Lox, eggs, and onion or L.E.O., as the combination is commonly known, is as quintessential to Jewish food as the bagel. Right after I learned to talk, I'm sure the next thing my father taught me to do was eat L.E.O. We took this classic and married it with matzo brei to make these two iconic dishes even more beloved. My dad would be proud.
— Michele Streit Heilbrun
ON-DEMAND: Listen to Faith and co-author David Kirschner talk about this recipe as well as others in the book Matzo.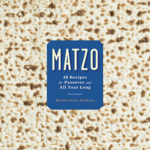 Excerpted from Matzo by Michele Streit Heilbrun and David Kirschner. Published by Clarkson Potter. Copyright © 2017 Michele Streit Heilbrun, Photography Copyright © 2017 Jennifer May.

Run each sheet of matzo under cold running water for 15 seconds until it just begins to soften but isn't falling apart. Break into 1-1/2-inch pieces and set aside.

Melt 1 tablespoon of the butter in a large nonstick skillet over medium-high heat. Add the onion slices in a single layer and cook without stirring until they turn dark brown in spots, 3 minutes. Reduce the heat to medium, add the remaining butter, stir the onions, and continue to cook until they are evenly golden brown, 4 minutes.

Meanwhile, beat the eggs in a medium bowl. Season with the salt and black pepper. Stir in the matzo and let soak for 1 minute.

Reduce the heat under the skillet to medium-low. Add the egg-matzo mixture and gently stir as though you were making scrambled eggs. Once the eggs begin to set, about 3 minutes, add the lox, dill, chives, and capers. Continue to stir until the eggs are cooked through but still soft, about 1 minute, or to desired consistency.