Rigatoni con Salsa Italo Americana
This recipe is a traditional Italian American favorite for Sunday lunch. It makes enough sauce for 4 pounds of pasta. If you have a big crowd, you can use the whole batch, but if you only want to cook 1 pound of pasta, don't worry—the rest of the sauce will freeze well for several months. On a Sunday, this brings everyone in my family to the table.
— Lidia Matticchio Bastianich and Tanya Bastianich Manuali
• ON-DEMAND: Faith and Lidia discuss Lidia's fascinating new memoir, My American Dream. •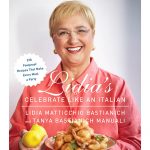 Excerpted from Lidia's Celebrate Like an Italian: 220 Foolproof Recipes That Make Every Meal a Party by Lidia Matticchio Bastianich and Tanya Bastianich Manuali. Published by Alfred A. Knopf, a division of Penguin Random House, LLC. Copyright © 2017 Tutti a Tavola, LLC.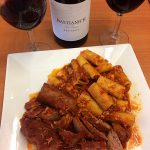 Heat a very large Dutch oven over medium heat, and add the olive oil. When the oil is hot, add the sausages and brown all over, about 6 minutes. Remove them to a plate. Season the ribs with 1 teaspoon of the salt, and brown all over, about 8 minutes. Remove to the plate with the sausages.

When all of the meat is out of the pot, add the garlic, and let it sizzle a minute, taking care that it doesn't burn. Add the wine and bay leaves, bring to a boil, and boil to reduce the wine by half, about 3 minutes. Add the tomatoes, slosh out the can with 4 cups of water, and add that to the pot. Stir in the remaining tablespoon of salt and the red pepper akes. Once the sauce is simmering, add the meat back in, cover, and simmer until the ribs are tender, about 1-1⁄4 to 1-1⁄2 hours. Remove the bay leaves.

Bring a very large pot of salted water to boil for the pasta. Add the rigatoni. When the ribs are done, remove them and the sausages to a platter, and ladle a little sauce over the top to keep everything warm. Bring the sauce back to a simmer in the Dutch oven, and simmer while the pasta cooks, to reduce to your liking. When the pasta is al dente, remove it with a spider directly to the pot. Toss to coat the pasta with the sauce, adding a little pasta water if it seems dry. Drizzle with olive oil, and toss again. Remove from the heat, add the grated cheese, and toss. Serve the pasta from the pot, with the platter of meat along-side.