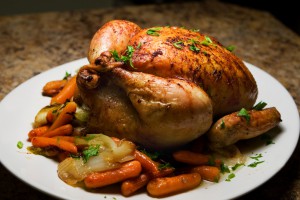 "It all depends upon how you massage your bird. Rub deep and make sure you get the herbs and spices under the skin. Then finish with a dollop, because your bird needs a little accessorizing to hit the 'yum' mark," says Rebecca Katz, co-author of The Healthy Mind Cookbook.
Rebecca prefers organic or pasture-raised chickens. She says they're vitamin rich and full of flavor.

Preheat the oven to 400°F. Pat the chicken dry with paper towels. Stir the paprika, turmeric, coriander, cumin, cinnamon, and red pepper flakes together. Divide the mixture in half and stir 1 teaspoon of the salt into one half. Rub the salted spice mixture all over the outside of the chicken. Sprinkle the remaining 1/2 teaspoon of salt inside the chicken.

With your palm facing downward, use your first three fingers to gently lift the skin on both sides of the breast to loosen it from the meat. Rub the remaining spice mixture and the grated ginger under the skin of each side of the breast, massaging the seasonings lightly into the meat. Place the garlic cloves, cinnamon stick, and ginger pieces inside the cavity. Squeeze the lemon halves into the cavity, then insert the rinds.

Place the chicken on a roasting rack in a glass or ceramic baking dish breast side up. Roast until a meat thermometer reads 160°F when inserted in the thigh and the juice from the meat runs clear, about 1 hour.

Let the chicken rest for at least 10 minutes before carving. Just before serving, pour 2 teaspoons of lemon juice all over the chicken and serve with My Everything Drizzle.
Combine the parsley, mint, lemon juice, 1/8 teaspoon salt, syrup, and oil in a food processor and process until well blended. For a thinner drizzle, add a tablespoon of water and briefly process again. Taste; you may want to add a pinch of salt.